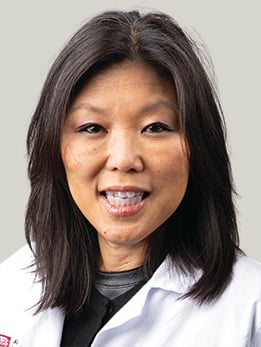 Gynecologic Oncology (Gynecologic Cancer), OB/GYN | More
Joseph Bolivar DeLee Professor of Obstetrics and Gynecology
Chief, Section of Gynecologic Oncology
UChicago Faculty Physicians hold faculty positions with the University of Chicago and provide care for patients on the academic health system's main campus in Hyde Park and in care centers throughout the Chicago region.
Close
773-702-8222
Dr. Diane Yamada specializes in the diagnosis and treatment of gynecologic cancers. She is the principal investigator at the University of Chicago for the Gynecologic Oncology Group (GOG), a cooperative clinical trials group supported by the National Cancer Institute.
Her areas of interest include:
Surgery for gynecologic malignancies including ovarian, uterine and cervical cancers, as well as minimally invasive surgery
Prophylactic surgery for women at high risk for the development of hereditary ovarian and endometrial cancers
Management of high grade uterine cancers
Intraperitoneal chemotherapy
Clinical trials
Her recent research focuses on the regulation and radiologic imaging of ovarian cancer metastasis and the unique biology of aggressive uterine cancers. She conducts clinical trials targeting ovarian cancer as well as endometrial and cervical cancer through the GOG.
Dr. Yamada is an editorial reviewer for a number of academic medical journals, including the American Journal of Obstetrics and Gynecology, Gynecologic Oncology and Cancer. She is also the author or co-author of numerous book chapters and reviews concerning gynecologic cancers.
Read more from Dr. S. Diane Yamada