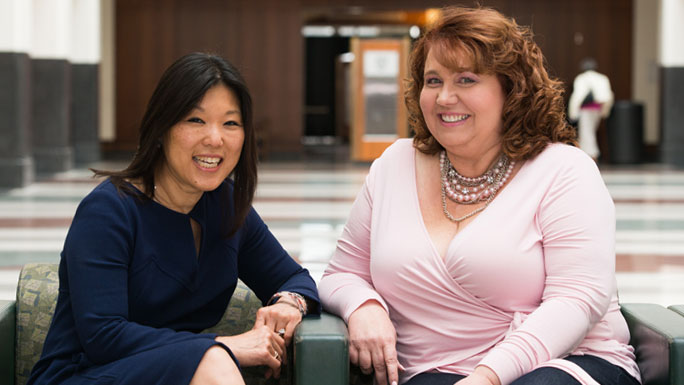 Uterine cancer is the most common gynecologic cancer in women in the United States and affects more than 60,000 women annually. The number of cases of uterine cancer and the number of deaths from uterine cancer are increasing in the United States, making research to reverse this trend critical. Our multidisciplinary women's cancer team at the University of Chicago Medicine Comprehensive Cancer Center works together to provide compassionate and tailored care for women facing a diagnosis of uterine cancer. We have years of experience in providing the best surgical and medical care for patients with all stages of uterine cancer. Since not all uterine cancers are the same, we can assist you and your family to better understand your diagnosis and treatment options.
Options for Uterine Cancer Treatment
Most women with uterine cancer will require surgery and our gynecologic oncologists are experts in minimally invasive, robot-assisted or open surgery, which includes hysterectomy, lymph node dissection and other tumor staging procedures. Our team has expertise in performing safe and successful minimally invasive surgery for women who are overweight and obese or those with other complex medical conditions. Our surgeons also offer sentinel lymph node dissection using the latest robotic and laparoscopic technology to minimize surgical side effects, including lymphedema. For advanced uterine cancer, we offer radical surgery and debulking (removing as much of the tumor as possible) for select patients as part of their treatment plan.
Our radiation oncologists use the latest technologies, including tailored radiation treatment, such as intensity-modulated radiation therapy (IMRT), to fully target the tumor area while better sparing normal nearby tissue. This reduces the side effects experienced by patients receiving radiation for uterine cancer.
In addition to the most common type of uterine cancer — endometrioid adenocarcinoma — we have expertise in the management of early and advanced stage high-risk endometrial cancer and sarcomas including:
Serous carcinoma of the uterus
Clear cell carcinoma of the uterus
Uterine carcinosarcoma, also known as malignant mixed Mullerian tumor (MMMT)
Uterine leiomyosarcoma (LMS)
Endometrial stromal sarcoma (ESS)
Most uterine cancers begin in the lining of the uterus (womb) called the endometrium (endometrial cancers). Rare uterine cancers that arise in the muscle wall of the uterus are called uterine sarcomas. Many women diagnosed with early stage uterine cancer are treated with surgery alone and cured. Other women with higher risk disease or more advanced stages will require surgery in addition to chemotherapy and/or radiation therapy. Black women are more likely to develop high-risk types of uterine cancer.
Risk factors for endometrial cancer include:
Obesity

Never giving birth, menstruating at an early age or starting menopause at a later age — which leads to prolonged estrogen exposure to the endometrial tissue

Having metabolic syndrome (a cluster of related abnormalities such as obesity, high blood pressure, elevated cholesterol levels, heart disease and diabetes)

Taking the drug tamoxifen for breast cancer or taking estrogen (a hormone) without progesterone (another hormone) after menopause
Having polycystic ovarian syndrome
Having a mother, sister or daughter with endometrial cancer
Having certain genetic conditions such as Lynch syndrome or hereditary nonpolyposis colorectal cancer (HNPCC)
Obesity is an important risk factor for uterine cancer that can be modified. Extra stored fat in a body increases estrogen levels, causes inflammation and can promote cancer development. Most common endometrial endometrioid cancers are estrogen dependent. Women who are 50 pounds overweight are 10 times more likely to develop endometrial cancer. Managing weight through appropriate diet and increasing physical activity can potentially decrease risk for this cancer.
Signs and symptoms of uterine and endometrial cancer may include:
Vaginal bleeding or discharge not related to periods
Vaginal bleeding or irregular vaginal discharge after menopause
Pelvic pain
New changes in or pain with bowel or bladder function
Pain during sexual intercourse
Uterine cancer is most commonly diagnosed with an endometrial biopsy or D&C (dilatation and curettage), which allows us to test a sample of the endometrial lining. The Pap smear, a test to detect precancer and cancer of the cervix, only rarely detects uterine cancer; most women with this cancer have had normal Pap smears. A sample of endometrial tissue must be removed using one of these procedures, and then checked under a microscope to look for cancer cells:
Endometrial biopsy (pipelle): A simple office procedure in which a thin flexible tube is introduced through the cervix to the endometrial lining to take a sample
Dilation and curettage (D&C): A minor outpatient surgical procedure using anesthesia in which the cervix is gently dilated (opened) and a curette (spoon-shaped instrument) is inserted into the uterus to remove tissue
Hysteroscopy: After dilation of the cervix, a small camera is introduced into the uterus for direct observation and targeted removal of tissue or polyps (growths)
Your doctor will use a physical exam and history of health habits, past illnesses and treatments to help diagnose uterine cancer. They may do a transvaginal ultrasound exam, where an ultrasound probe is inserted into the vagina and used to bounce high-energy sound waves (ultrasound) off internal tissues or organs. The resulting echoes form a picture of body tissues (a sonogram), which helps to evaluate uterine size and the thickness of the endometrium.
Treatment options depend on the type and stage of the cancer. Our women's cancer team will work with you to develop a personalized treatment plan, considering desire for fertility preservation, that may include a combination of these options:
Surgery: The use of surgical procedures, including minimally invasive, robotic and open surgery, to remove the uterus and all cancerous tissue
Radiation therapy: The use of high-energy rays to damage cancer cells and stop their growth
Chemotherapy: The use of powerful drugs to stop the growth of cancer cells
Hormone therapy: The use of medications to reduce the production of cancer-causing hormones or block them from working
Targeted therapy: The use of drugs or other substances to identify and attack specific cancer cells without harming normal cells in the body
Immunotherapy: The use of drugs to stimulate the immune system
Like most cancers, uterine cancer is more difficult to treat after it has spread to distant parts of the body (metastasized). Our gynecologic cancer team treats each patient as unique and will help find the best treatment for you. Some early forms of metastatic uterine cancer can be controlled long term. Our gynecologic cancer team is part of the UChicago Medicine Limited Metastatic Cancer Program (LMEC), an effort dedicated to helping patients with limited metastatic cancer achieve long-term survival.
UChicago Medicine researchers are continuously testing new drugs that may be more effective in treating uterine cancer than currently available options. We also have performed many clinical trials combining chemotherapy with radiotherapy with the goal of improving survival for women fighting this disease.
Why Choose Us for Uterine Cancer Care?
Recognized as a Leader in Cancer and Gynecologic Care
We are designated a Comprehensive Cancer Center by the National Cancer Institute — one of only two in Illinois. U.S. News & World Report consistently ranks UChicago Medicine's cancer program among the top in the United States. Several of our faculty are recognized annually by Chicago magazine as Top Cancer Doctors.
Our Women's Cancer Team
Our team includes highly trained specialists with deep expertise in all aspects of women's cancer care, including the treatment of uterine cancer. They offer a broad range of treatments and areas of care, often partnering with other experts to fully address the needs and concerns of our patients.

Because communication among cancer specialists is vital, the entire team meets weekly at a multidisciplinary tumor board to share information and insights — leading to the most effective, and often groundbreaking, treatments for our patients.
Leading Research
UChicago Medicine's Comprehensive Cancer Center is a leader in the research and treatment of gynecological cancers, including uterine cancer. Our team is engaged in diverse areas of research including novel chemotherapy, targeted therapy and immunotherapy clinical trials, high-risk uterine cancer treatment and surveillance, treatment for patients who can't have surgery and healthy lifestyle changes, such as weight loss and survivorship.

Clinical trials are important to helping us develop new, effective, and safe practices for gynecologic cancer treatment. Watch this video from our partners at the Society for Gynecologic Oncology to learn more about clinical trials.
Care Close to Home
In addition to our clinics throughout the Chicagoland and Northwest Indiana area, our gynecologic oncologists sometimes operate at other hospitals to provide surgical care closer to home. This is all dependent upon clinical complexity among other factors. Virtual visits may also be available.

Learn more and book an appointment or receive a second opinion with one of our gynecologic oncologists.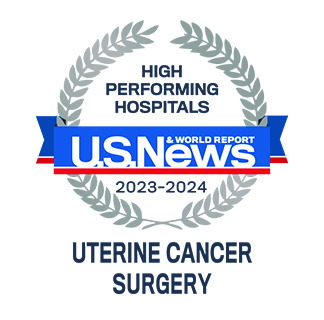 High Performing in Uterine Cancer Surgery
According to U.S. New & World Report's 2023-2024 rankings, the University of Chicago Medical Center is high performing in uterine cancer surgery.
Learn More
Convenient Locations for Gynecologic Oncology Care
Request an Appointment for Cancer Care
The information you provide in this form will enable us to assist you as efficiently as possible. A representative will contact you within one to two business days to help you schedule an appointment.
For your convenience, you can make a virtual visit appointment with a cancer expert in the following ways:
– Schedule a virtual video visit to see a provider from the comfort of your home
– Request an online second opinion from our specialists
To speak to someone directly, please call 1-773-702-6118. If you have symptoms of an urgent nature, please call your doctor or go to the emergency room immediately.
For Referring Physicians
To refer a patient for cancer care, please call UCM Physician Connect at 1-800-824-2282.
Gynecologic Cancer Related Articles