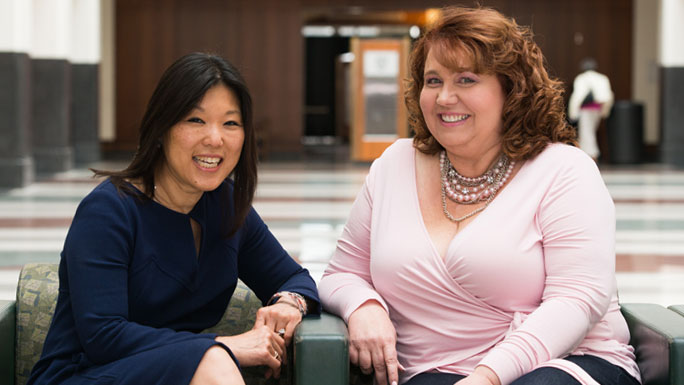 Uterine cancer is the most common gynecologic cancer in women in the United States and affects more than 60,000 women annually. The incidence of uterine cancer is increasing in the United States. Our multidisciplinary women's cancer team at the University of Chicago Medicine Comprehensive Cancer Center works together to provide compassionate and tailored care for women facing a diagnosis of uterine cancer. We have years of experience in providing the best surgical and medical care for patients with all stages of uterine cancer. Since not all uterine cancers are the same, we can assist you and your family to better understand your diagnosis and treatment options.
Options for Uterine Cancer Treatment
Most women with uterine cancer will require surgery and our gynecologic oncologists are experts in minimally invasive, robot-assisted or open surgery, which includes hysterectomy, lymph node dissection and other tumor staging procedures. Our team has expertise in performing safe and successful minimally invasive surgery for women who are overweight and obese or those with other complex medical conditions. Our surgeons also offer sentinel lymph node dissection using the latest robotic and laparoscopic technology to minimize surgical side effects, including lymphedema. In addition, for advanced uterine cancer, we offer radical surgery and debulking (removing as much of the tumor as possible) for select patients as part of their treatment plan.
Our radiation oncologists use the latest technologies, including tailored radiation treatment, such as intensity-modulated radiation therapy (IMRT), to fully target the tumor area while better sparing normal nearby tissue. This reduces the side effects experienced by patients receiving radiation for uterine cancer.
In addition to the most common type of uterine cancer — endometrioid adenocarcinoma — we have expertise in the management of early and advanced stage high risk endometrial cancer and sarcomas including:
Uterine papillary serous carcinoma
Clear cell uterine cancer
Uterine carcinosarcoma, also known as malignant mixed Mullerian tumor (MMMT)
Uterine leiomyosarcoma (LMS)
Endometrial stromal sarcoma (ESS)
Convenient Locations for Gynecologic Oncology Care
Gynecologic Cancer Related Articles