Skip to content
ASCO Annual Meeting returns to Chicago, celebrates new progress in cancer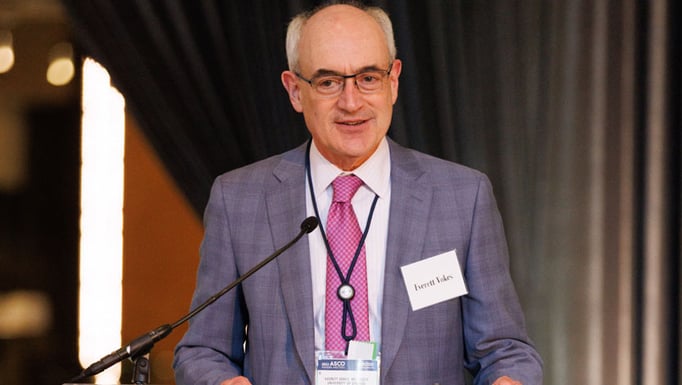 Dr. Everett Vokes addresses the audience as 2021-2022 ASCO President.
Approximately 40,000 oncology professionals from around the world gathered June 3-7, 2022—both in-person in Chicago and virtually—to share the latest clinical cancer advances in every area of cancer research at the American Society of Clinical Oncology (ASCO) Annual Meeting. This event was especially exciting for the University of Chicago Medicine Comprehensive Cancer Center because one of their cancer leaders, Everett Vokes, MD, FASCO, was front and center of the meeting as President for the 2021-2022 term.
Vokes is an internationally renowned expert in the treatment of head and neck and lung cancers. He is the John E. Ultmann Professor, chair of the Department of Medicine, and physician-in-chief at the University of Chicago Medicine and Biological Sciences. He has served in many leadership roles within ASCO.
In addition to being an ASCO Fellow, he is past chair of the Annual Meeting Education Committee, Annual Meeting Scientific Program Committee, a member of the Conquer Cancer Development and Fundraising Committee, and the Cancer.Net Editorial Board. He served as an elected member of the ASCO Nominating Committee, and on the Board of Directors from 2009-2012.
He joins other prestigious faculty from the University of Chicago who have served as ASCO Presidents over the past several decades, including the late John E. Ultmann, MD, Samuel Hellman, MD, FASCO, Harvey M. Golomb, MD, and Richard Schilsky, MD.
The massive volume of science presented at the ASCO Annual Meeting epitomizes the innovation that has always driven our progress in oncology.
Every ASCO President has the honor of deciding the overall theme for the program. Vokes chose "Advancing Equitable Cancer Care Through Innovation" to urge the oncology community across the globe to work together to bring down barriers to access and make cancer care more equitable, convenient and efficient for patients worldwide.
In the spirit of global collaboration, the Comprehensive Cancer Center and the Department of Medicine hosted a group of 30 international oncologists from several cancer specialties as part of the ASCO International Development and Education Award (IDEA) program for two days immediately following the ASCO meeting. The IDEA program supports the professional development of early-career oncologists from low- and middle-income countries. In addition to attending the ASCO meeting, the visiting oncologists came to Hyde Park had the opportunity to attend lectures, shadow hematology/oncology physicians in the clinic, and meet with cancer faculty and fellows.
The ASCO 2022 Annual Meeting provided an international platform for UChicago Medicine physicians and researchers to share the latest discoveries in clinical oncology that contribute to the best care for patients everywhere. More than 86 presentations by UChicago Medicine faculty and trainees were featured, including education, poster, oral abstract and other sessions.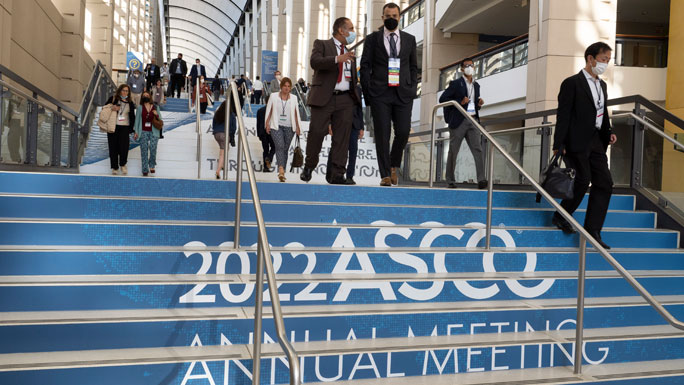 UChicago Medicine cancer leaders also helped plan the meeting's scientific and educational programming. Members of ASCO's Annual Meeting Scientific Program Committee included Everett E. Vokes, MD, FASCO, Sonali M. Smith, MD, Steven J. Chmura, MD, PhD, John W. Moroney, MD, Rita Nanda, MD, Ardaman Shergill, MD, and Russell Szmulewitz, MD.
Members of ASCO's Annual Meeting Education Committee included Everett E. Vokes, MD, FASCO, Peter H. O'Donnell, MD, Aditya Juloori, MD, Katherine Kurnit, MD, MPH, Kunle Odunsi, MD, PhD, Randy F. Sweis, MD, Olatoyosi Odenike, MD, and Jennifer McNeer, MD. Many of these faculty also served as chairs, moderators, discussants and panelists for multiple sessions.
Three fellows from the UChicago Department of Medicine's Section of Hematology/Oncology were recognized with ASCO Young Investigator Awards, which provide funding to promising investigators to encourage and promote quality research in clinical oncology. They are: Fred Howard, MD, Caner Saygin, MD, and Nabiel Mir, MD.
In addition to presenting dozens of posters at ASCO, UChicago Medicine faculty participated in the following sessions:
Education Sessions
Oral Abstract Sessions
Christine Bestvina, MD, spoke about treatment advances in non-small cell metastatic lung cancers.
Justin Kline, MD, co-chaired and moderated a panel on lymphoma and chronic lymphocytic leukemia.
Russell Szmulewitz, MD, led the discussion of abstracts focused on metastatic hormone-sensitive prostate cancer.
Jessica Donington, MD, questioned whether neoadjuvant therapy was the new standard of care for treating patients with early-stage non-small cell lung cancer.
Steven J. Chmura, MD, PhD, presented results from a clinical trial that tested different approaches for newly oligometastatic breast cancer.
Ernst Lengyel, MD, PhD, led a discussion about progress in front-line ovarian cancer management.
Andrzej Jakubowiak, MD, PhD, reported results of a Phase 3 randomized clinical trial testing a combination therapy against lenalidomide alone in patients with multiple myeloma after a stem cell transplant.
Ami V. Desai, MD, reported results from the Children's Oncology Group on a pilot induction regimen of dinutuximab and sargramostim for the treatment of newly diagnosed high-risk neuroblastoma.
Michael W. Drazer, MD, PhD, co-chaired and moderated a panel discussion on leukemia, myelodysplastic syndromes and allotransplant.
Case-Based Panels
Jennifer McNeer, MD, presented a case exploring treatment options for Hodgkin lymphoma in pediatric cancer patients.
Peter H. O'Donnell, MD, moderated a panel discussion on the state of pharmacogenetic testing to personalize cancer therapy.
Poster Discussion Sessions
Two UChicago Medicine faculty co-chaired and moderated poster discussion sessions, including Rita Nanda, MD, on metastatic breast cancer; Ami V. Desai, MD, on pediatric oncology. Nanda also co-authored a poster showing results from the I-SPY2 trial that identified an immune signature in patients with high-risk early breast cancer who may benefit from PD1 checkpoint inhibitor drugs.
John W. Moroney, MD, was a discussant and panelist for a poster discussion session on antibody-drug conjugates in ovarian cancer. Ardaman Shergill, MD, discussed molecularly targeted agents and tumor biology in the context of developmental therapeutics.
Numerous researchers presented posters with results from clinical trials. Andrzej Jakubowiak, MD, PhD, presented updates from a clinical trial testing elranatamab, a B cell maturation antigen-targeted T-cell redirecting immunotherapy for patients with relapsed or refractory multiple myeloma.
Other posters described changes to treatment regimens. Susan L. Cohn, MD, discussed survival of patients with neuroblastoma before and after Children's Oncology Group (COG) risk stratification changed the age cut-off from 12 to 18 months for reduction of therapy.
Alexander T. Pearson, MD, PhD, and Ari Rosenberg, MD, described the recommended phase 2 dose of HB-200 arenavirus-based cancer immunotherapies in patients with HPV16+ cancers. Rosenberg also was a panelist for a head and neck poster discussion and talked about swallowing and quality-of-life outcomes of response adaptive de-escalated therapy following nivolumab-based induction for HPV+ oropharyngeal cancer.
Fay J. Hlubocky, PhD, Wendy Stock, MD, Jennifer L. McNeer, MD, Tara O. Henderson, MD, FASCO, MPH, and Christopher Daugherty, MD, co-authored a poster that identified trends for high symptom burden across the care continuum in adolescents and young adults (AYA) with hematologic malignancies.
During a clinical science symposium, Marina Chiara Garassino, MD, chaired and moderated a panel discussion on using artificial intelligence and machine learning in oncology.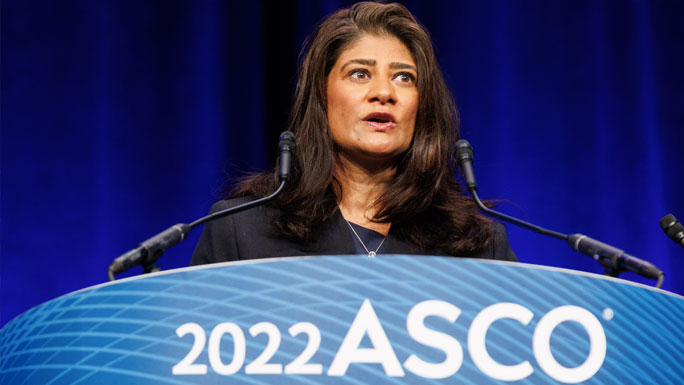 Vokes and Sonali M. Smith, MD, Elwood V. Jensen Professor in Medicine and Chief of Hematology/Oncology, co-chaired the plenary session introducing four of the most compelling abstracts presented at the meeting. Each abstract revealed exciting advances in the treatment of metastatic colorectal cancer, Ewing sarcoma, HER2 breast cancer and multiple myeloma, respectively.
Vokes delivered his Presidential Address during the Opening Session. He told ASCO attendees, "The massive volume of science presented at the ASCO Annual Meeting epitomizes the innovation that has always driven our progress in oncology. Let it enrich your work and the care you provide to your patients for years to come."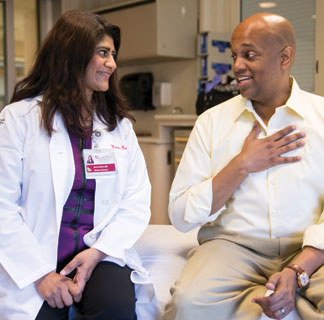 UChicago Medicine Comprehensive Cancer Center
UChicago Medicine is designated as a Comprehensive Cancer Center by the National Cancer Institute, the most prestigious recognition possible for a cancer institution. We have more than 200 physicians and scientists dedicated to defeating cancer.
Learn More About the Comprehensive Cancer Center