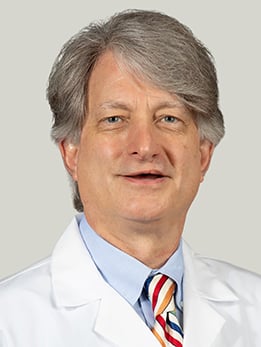 Hematology and Oncology (Cancer) | More
Professor of Medicine
Chair, Biological Sciences Division Institutional Review Board
UChicago Faculty Physicians hold faculty positions with the University of Chicago and provide care for patients on the academic health system's main campus in Hyde Park and in care centers throughout the Chicago region.
Close
855-702-8222
Christopher Daugherty, MD, specializes in the care and treatment of adults with hematologic malignancies, those undergoing stem cell transplantation, and other disorders of the bone marrow.
Dr. Daugherty's research focuses on ethical issues involved in the treatment of cancer. He is a national and international authority on doctor-patient communication, decision-making, end-of-life care, and informed consent as it relates to the care of cancer patients and their participation in clinical research. In addition, he has served as a local medical director for Vitas Hospice in Chicago. (Dr. Daugherty has pursued this as an interest outside his University of Chicago obligations, and has disclosed this to the university.)
He has received multiple awards and grants for his research from several organizations, including the American Cancer Society, the Soros Foundation, and the National Institutes of Health.