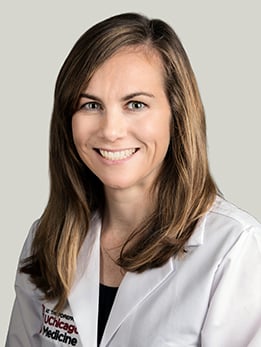 Gynecologic Oncology (Gynecologic Cancer), OB/GYN | More
Assistant Professor of Obstetrics and Gynecology
UChicago Faculty Physicians hold faculty positions with the University of Chicago and provide care for patients on the academic health system's main campus in Hyde Park and in care centers throughout the Chicago region.
Close
773-702-6118
Katherine Kurnit, MD, MPH, specializes in diagnosing and treating a wide range of gynecologic malignancies, which are tumors on the reproductive organs. Dr. Kurnit is committed to providing comprehensive and personalized care for patients with gynecologic cancer such as cervical, ovarian and uterine cancer. She provides surgical management as well as chemotherapy to treat gynecologic cancers in women.
As an avid researcher, Dr. Kurnit is investigating ways to improve diagnosis and treatment for her patients using evidence-based, data-driven medicine. She is particularly interested in finding new treatments for women with gynecologic cancer, including targeted therapy and immunotherapy. Dr. Kurnit's work has been published in several high-impact, peer-reviewed journals, such as Cancer Research, Cancer and Gynecologic Oncology.