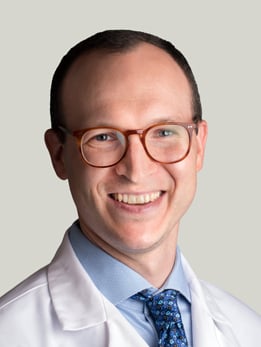 Hematology and Oncology (Cancer) | More
Assistant Professor of Medicine
UChicago Faculty Physicians hold faculty positions with the University of Chicago and provide care for patients on the academic health system's main campus in Hyde Park and in care centers throughout the Chicago region.
Close
773-702-6149
Benjamin Derman, MD, specializes in hematology and oncology. Dr. Derman is an expert in multiple myeloma and other plasma cell disorders, such as monoclonal gammopathy, amyloidosis, plasmacytoma, and POEMS syndrome. He also diagnoses and treats cancerous conditions and uses the most innovative techniques, including CAR T-cell therapy and stem cell transplantation to deliver long-term success for his patients.
Along with his clinical practice, Dr. Derman remains committed to research. Currently, he is focused on identifying strategies that can lead to a possible cure for multiple myeloma, including using very sensitive tests that measure small amounts of residual cancer cells in the body called 'minimal residual disease' (MRD) to guide decision making.
Dr. Derman is also investigating new methods and therapies designed to improve outcomes and quality of life for his patients. Additionally, he is interested in evaluating reasons for racial disparities in multiple myeloma outcomes to better understand and care for those patients. His work has been published in several peer-reviewed journals, including the Journal of Immunotherapy of Cancer, Blood, Blood Advances, Blood Cancer Journal, Leukemia and Lymphoma and British Journal of Haematology.