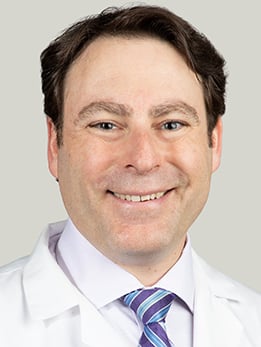 Hematology and Oncology (Cancer) | More
Associate Professor of Medicine
Director, Genitourinary Oncology Program
UChicago Faculty Physicians hold faculty positions with the University of Chicago and provide care for patients on the academic health system's main campus in Hyde Park and in care centers throughout the Chicago region.
Close
855-702-8222
Russell Szmulewitz, MD, is an expert in the treatment and management of prostate, bladder, kidney and testicular cancers. His clinical focus is on the treatment of patients with advanced prostate cancer, with particular expertise in the use of leading-edge hormonal, targeted, and immunotherapies. Dr. Szmulewitz works in close collaboration with urologists, radiation oncologists and geriatricians who also specialize in the care of prostate cancer patients.
His research bridges the clinic and laboratory and focuses on the process of prostate cancer metastasis. In particular, his research attempts to better define the steps involved in metastatic progression and evolution to castration resistance in prostate cancer, with the goal of developing targeted therapies for these processes. In addition, Dr. Szmulewitz's laboratory is developing strategies to isolate and interrogate circulating tumor cells (CTC) to better understand the biology of prostate cancer, and eventually personalize care based on this individualized biology.
Dr. Szmulewitz is particularly involved in therapeutic development for prostate cancer. He is an investigator on many clinical research trials focusing on immunotherapy, anti-angiogenic and other novel targeted therapies for prostate cancer.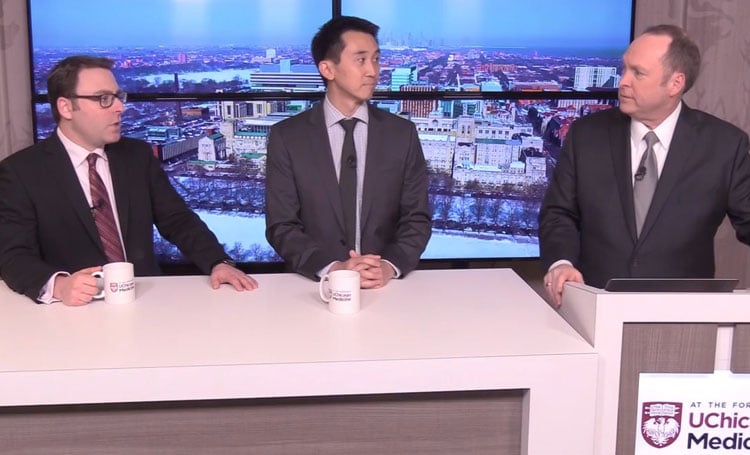 Prostate Cancer Q & A
UChicago Medicine prostate cancer experts answer questions about the latest prostate cancer treatments, hereditary factors that increase the risk for prostate cancer and advanced research under way to improve the diagnosis and treatment of prostate cancer.
Watch Video
Watch Video With Transcript
Read more from Dr. Russell Szmulewitz