Marathon Runner Recovers From Stage 4 Prostate Cancer
It was a surprise to me. I never had a clue that I had any kind of condition going on. I was doing fine. Went in for an executive physical. And just as part of the normal screening process …
It was just sobering. Just looking at life and suddenly being faced with something that has the potential to impact your future in such a significant way.
We immediately kind of connected in terms of his triathlon experience and everything. And he just struck me as a very sharp, outstanding physician who covered all the bases and had excellent answers and seemed to be right up-to-date current on research and clinical studies, so I was very impressed.
You know, there's really a couple of goals as we go through treatment. But the main two are that we hope that the disease doesn't come back, that it's successful to eradicate any cells of activity. And the second is to try to protect the normal tissue so that patients can maintain a high quality of life in the long-run.
Radiation for prostate is typically done using linear accelerators. Courses of treatment usually last for several weeks at a time. In Dave's case, it was about 8-and-a-half weeks.
I started to feel the effects of the radiation therapy just in the last few weeks before the marathon. I mean, I could just watch my performance deteriorate. And it dropped off by 20% over a year period of time there. And I gained weight. I gained like 40 pounds.
It significantly affected training and affected my races. I mean, it became a focus of -- well, I'll just finish the race and keep going and keep doing the exercise and everything. But certainly, the fact that you continue to stay exercising and doing strength training is a huge help.
It means that patients are also more invested in their outcomes. And that's always a great thing. You have a sense that you'll have an easier time getting people through treatment when they're invested.
So I mean, that certainly was a big win and felt good. It achieved another milestone.
Yeah, we're pleased with how Dave has done. It's a testament to himself to really try to keep his body in great shape and be very fit. Because I think that does play a part in his ability to recover well from the treatment. Dave is a special guy.
Mental standpoint, this isn't a death sentence. This isn't the end of my current kind of view on things. This is just another speed bump in life, and we'll get over it.
Prostate cancer is the most common cancer among men. But men diagnosed with the disease have reason to be optimistic. Thanks to increased awareness, new diagnostic and management strategies, and improvements in therapies, more men are surviving prostate cancer today than ever before. Many others are safely followed without needing treatment.
The world-renowned prostate cancer team at the University of Chicago Medicine is highly skilled in the most up-to-date, technologically advanced methods for the diagnosis and treatment of prostate cancer. Our experts provide the full range of therapy options, including many that are not widely available, such as high-intensity focused ultrasound (HIFU) using Focal One advanced robotic technology. In addition, we're among the first hospitals in Illinois to offer PSMA PET imaging, the best available method for detecting prostate cancer anywhere in the body, as well as lutetium-177 PSMA therapy, a new theranostic treatment that targets metastatic prostate cancer with lower side effects than many alternative treatments.
We believe in a personalized, comprehensive approach — working closely with you to help you choose the best treatment strategy for your condition and your unique situation.
Our multidisciplinary prostate cancer team — urologists, radiation oncologists, medical oncologists, pathologists and radiologists — collaborates with the goal of offering each patient innovative and high-quality care based on the latest research.
Focused on Your Quality of Life
Although treatments for prostate cancer are continuously advancing, they can have lasting side effects in some men. We strive to help you develop the right treatment course for your condition, one that offers a cure or effective management of the cancer while having the least possible impact on your health and your body.
High Risk & Advanced Prostate Cancer Clinic
The UChicago Medicine High Risk & Advanced Prostate Cancer Clinic (UCHAP) was created to provide specialized care for men at high risk for prostate cancer as well as those diagnosed with advanced disease. Services include comprehensive genetic evaluations and screening plans for men with an increased prostate cancer risk due to genetic or hereditary factors. The clinic also offers novel treatment methods and access to clinical trials for men diagnosed with aggressive forms of prostate cancer.
Care for Older Men
The prostate cancer team works with the Specialized Oncology Care & Research in the Elderly (SOCARE) clinic at UChicago Medicine. SOCARE anticipates and addresses the specific needs of older men choosing treatment for prostate and other types of cancer.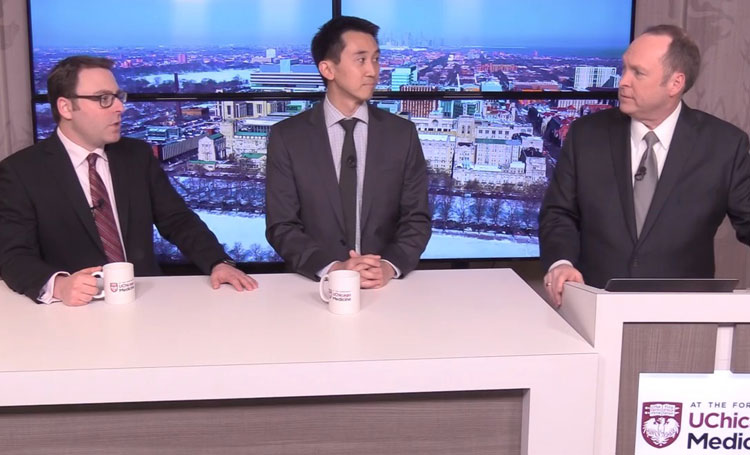 Prostate Cancer Q & A
UChicago Medicine prostate cancer experts answer questions about the latest prostate cancer treatments, hereditary factors that increase the risk for prostate cancer and advanced research under way to improve the diagnosis and treatment of prostate cancer.
Watch Video
Watch Video With Transcript
Convenient Locations for Cancer Care
Request an Appointment for Prostate Cancer Care
The information you provide on this secure form to request an appointment with a UChicago Medicine prostate cancer expert will enable us to assist you as efficiently as possible. A representative will contact you within one to two business days to help you schedule an appointment.
You can also make an appointment with our providers by:
– Scheduling a virtual video visit to see a provider from the comfort of your home
– Requesting an online second opinion from our specialists
To speak to someone directly, please call 1-855-702-8222. If you have symptoms of an urgent nature, please call your doctor or go to the emergency room immediately.
For Referring Physicians
To refer a patient for prostate cancer care, please call UCM Physician Connect at 1-800-824-2282.
Prostate Cancer Related Articles