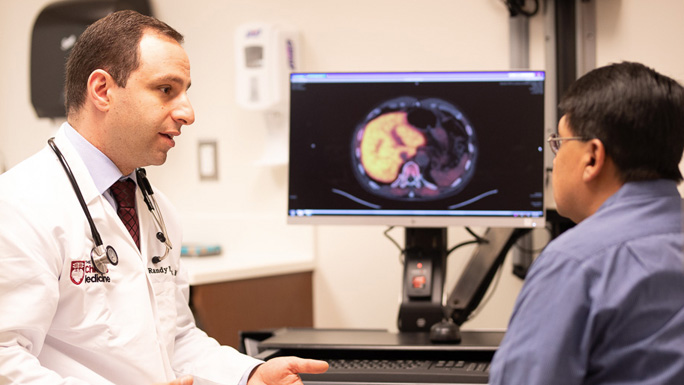 Each year, more than 80,000 cases of bladder cancer are diagnosed in the United States. Today, advancements in treating all stages of bladder cancer improve outcomes and overall quality of life. While many patients are diagnosed in the early stages, bladder cancer has a high rate of recurrence and may progress, so partnering with physicians you trust is crucial for managing your bladder cancer and maintaining long-term health.
The University of Chicago Medicine's urologic cancer program is one of the most experienced programs in the country. Our expert bladder cancer team offers innovative treatment options, novel therapies and a comprehensive, personalized care plan for each patient. Whether you are diagnosed with early-stage bladder cancer, late-stage metastatic cancer or have recurrent cancer, our physicians are dedicated to providing you the most advanced, individualized treatment solutions.
Individualizing Care with an Expert Team
Bladder cancer is a complex disease that often requires a combination of therapies to reach the most successful outcome. With our collaborative, multidisciplinary team of bladder cancer experts committed to your health, you can feel confident that we will deliver unparalleled care. These internationally-recognized specialists work closely together, and with you, to determine the best treatment strategy for your specific diagnosis and lifestyle needs.
Innovating Bladder Cancer Treatment
UChicago Medicine performs more radical cystectomies (bladder removal surgery) than any other institution in the Midwest region. We are proven, innovative leaders in the surgical treatment of bladder cancer, including bladder reconstructive surgery, minimally invasive surgery and nerve-sparing techniques. Our experts combine the highest level of skill with the latest advancements to deliver first-class care.
Learn more about bladder cancer treatment by cancer stage:
Groundbreaking Research & Clinical Trials
Our researchers and clinicians are at the forefront of bladder cancer care. Through leading-edge basic, translational and clinical bladder cancer research, we are exploring new treatment options for patients in all stages of disease. We are also investigating ways to personalize medicine for each patient, providing therapies that are more effective with fewer side effects. Additionally, we offer our patients the latest treatments before they are widely available through our clinical trials.
Convenient Locations for Cancer Care
Request an Appointment for Cancer Care
The information you provide in this form will enable us to assist you as efficiently as possible. A representative will contact you within one to two business days to help you schedule an appointment.
For your convenience, you can make a virtual visit appointment with a cancer expert in the following ways:
– Schedule a virtual video visit to see a provider from the comfort of your home
– Newly diagnosed patients can schedule a 15-minute introductory Express Expert Cancer Opinion virtual session at no cost
– Request an online second opinion from our specialists
To speak to someone directly, please call 1-855-702-8222. If you have symptoms of an urgent nature, please call your doctor or go to the emergency room immediately.
For Referring Physicians
To refer a patient for cancer care, please call UCM Physician Connect at 1-800-824-2282.