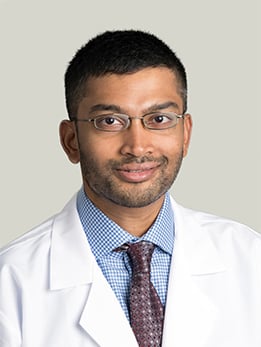 Radiation Oncology, Head and Neck Cancer | More
Assistant Professor of Radiation and Cellular Oncology
UChicago Faculty Physicians hold faculty positions with the University of Chicago and provide care for patients on the academic health system's main campus in Hyde Park and in care centers throughout the Chicago region.
Close
Aditya Juloori, MD, is an expert radiation oncologist who specializes in treating patients with lung, liver and head and neck cancers. Dr. Juloori is committed to providing innovative therapies to his patients, including stereotactic radiosurgery (SRS), a minimally invasive intervention that offers targeted radiation that minimizes injury to healthy tissue.
In addition to his clinical pursuits, Dr. Juloori is an avid researcher, evaluating treatments that can improve outcomes and enhance quality of life. He is investigating the synergistic effects of ablative radiotherapy and immunotherapy in order to find the best solution for each patient. Dr. Juloori is also passionate about clinical trial design, investigating the safety and effectiveness of his studies.
Dr. Juloori's research has been published in several high-impact, peer-reviewed journals, such as the Journal of Thoracic Oncology, International Journal of Radiation Oncology, Biology, and Physics, Practical Radiation Oncology and Journal of Neurosurgery.
UChicago Faculty Physicians who provide services at UChicago Medicine Ingalls Memorial are not employees or agents of UChicago Medicine Ingalls Memorial.