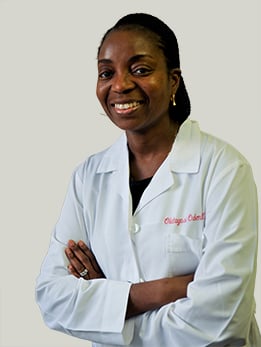 Hematology and Oncology (Cancer) | More
Associate Professor of Medicine
A clinically integrated network of physicians and providers employed by UChicago Medicine who offer care in inpatient, community, ambulatory, acute care or extended care settings.
Close
855-702-8222
Olatoyosi Sobulo Odenike, MD, is an expert in the care of adults with
leukemia
, chronic myeloproliferative diseases, and myelodysplastic syndromes. She specializes in all types of treatment for these diseases, including blood and bone marrow
stem cell transplant
.
An active researcher, Dr. Odenike is involved in the development of novel therapeutic agents for the treatment of acute and chronic leukemias and chronic myeloproliferative diseases. The ultimate goal of her research is to improve treatment options for patients with these diseases. Dr. Odenike is the principal investigator on a number of clinical trials investigating molecularly targeted agents in this patient population. These clinical trials also integrate laboratory studies to evaluate the effect that these agents have on cancer cells.