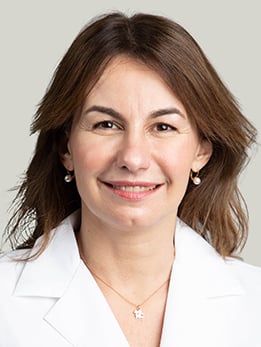 Hematology and Oncology (Cancer) | More
Professor of Medicine
UChicago Faculty Physicians hold faculty positions with the University of Chicago and provide care for patients on the academic health system's main campus in Hyde Park and in care centers throughout the Chicago region.
Close
773-702-6149
Marina Chiara Garassino, MBBS, is an internationally recognized expert in the treatment of thoracic malignancies. Dr. Garassino specializes in thoracic tumors including lung cancer, non-small cell lung cancer and small cell lung cancer, as well as thymic malignanicies, very rare mediastinal tumors (tumors that develop between the chest and breastbone). Dr. Garassino understands that thoracic cancers can grow quickly, so she works with her patents to accurately diagnose their condition and find the right treatment(s) for each person.
As an avid physician-scientist, Dr. Garassino is committed to researching treatments and techniques that improve quality of care and outcomes for her cancer patients. She has led clinical and translational research focused on investigating targeted agents, immunotherapies to treat thoracic malignancies. Dr. Garassino has published over 220 papers in respected, peer-viewed publications, including New England Journal of Medicine, Lancet Oncology, Journal of Clinical Oncology, JAMA Oncology, Annals of Oncology, Journal of Thoracic Oncology and Cancer Immunology, Immunotherapy.