Our Personalized Approach to World-Class Obstetric & Gynecologic Care
Experts at the University of Chicago Medicine provide a full spectrum of general and specialized obstetric and gynecologic care. From preventive well woman exams and prenatal care to minimally invasive surgery and high-risk pregnancy care, our team offers the latest advancements in reproductive health for women and girls.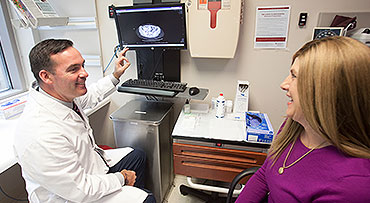 Gynecologic Cancer Treatment & Prevention
Find an Obstetrics & Gynecology Expert Near You
Meet Our Team
Our physicians and midwives are leading experts in world-class care for women and girls.
Refer a Patient
We provide assistance with referrals, physician-to-physician consultations and urgent/elective admissions.
Healthy Pregnancy After Cervical Cancer
Trachelectomy is a surgery so rare that only one doctor in Illinois performs it. If successful, it would enable Jennifer Zinga to have a third child, despite being diagnosed with cervical cancer. Against all odds, Jennifer and her husband, Tim, welcomed their third son, Rocco — just 19 months after her surgery.
Women's Health Related Articles