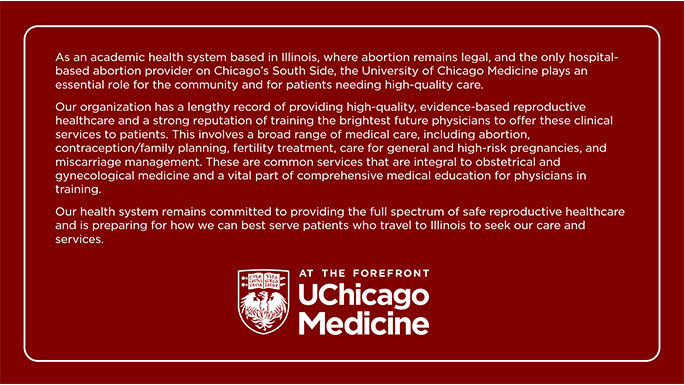 At the University of Chicago Medicine, our gynecologists provide specialized and confidential family planning services, including:
Contraception consultations and services
Pregnancy terminations
Miscarriage care
We offer a personalized and comprehensive approach to care, including reproductive health counseling services.
Family planning services at The Ryan Center
The Society of Family Planning, the American College of Obstetricians and Gynecologists, and the American Medical Association all affirm that abortion and contraception are essential healthcare choices that should be delivered in a timely fashion.
UChicago Medicine provides a safe and supportive environment in which to receive family planning care in a state (Illinois) that allows the provision of this care without barriers. In addition to access to abortion care, we offer contraception care with the full spectrum of contraceptive options and remote follow-up care for medical abortion and self-administration of subcutaneous Depo-Provera. Our team at UChicago Medicine is deeply committed to supporting the medical and psychosocial needs of patients seeking an abortion, miscarriage, and contraceptive care.
If you live within or outside of the state of Illinois and are experiencing challenges accessing reproductive care, please call 773-702-6118.
Contraception and Family Planning Services
UChicago Medicine offers a range of contraceptive options to help prevent pregnancy, including:
Oral contraceptives (birth control pills)
Wearable birth control (the patch)
Contraceptive vaginal ring (NuvaRing, Annovera)
Injectable contraceptive (Depo-Provera shot)
Implantable contraceptives, including Nexplanon, hormonal intrauterine devices (IUD) and non-hormaonal IUDs
Emergency contraception
Permanent contraception, including tubal ligation, tubal removal (salpingectomy) and vasectomy
UChicago Medicine offers comprehensive pregnancy termination (abortion) and miscarriage care services. We partner with our colleagues in ultrasound, maternal-fetal medicine (high-risk obstetrics), and genetics to care for the most complicated situations. Our services include:
Medical pregnancy termination
Office- and hospital-based surgical pregnancy termination in the first and second trimesters of pregnancy
Pregnancy termination services for women with pregnancies complicated by medical conditions and fetal abnormalities
Medical and surgical management of miscarriage
Pre- and post-procedure counseling and follow up
If you have a medical condition that complicates your birth control options, our experts offer personalized contraception consultations for several conditions, including:
Blood clotting disorders, such as Factor V Leiden
Your gynecologist will review your medical history and discuss your contraceptive options. Our patients also have access to reproductive health counseling services offered by our licensed clinical psychologist.
Reproductive Health Counseling
Many of our patients deal with circumstances or conditions that may impact their reproductive health and well-being. At UChicago Medicine, we offer behavioral health services for patients seeking abortion, miscarriage, contraception or gynecologic care. Our team includes a licensed clinical psychologist who helps meet our patients' needs more comprehensively, offering behavioral counseling and support.
Our specialists work with patients to reduce symptoms of chronic medical conditions and help patients cope with health challenges, such as:
Excessive cramping
Premenstrual dysphoric disorder (PMDD)
Mayer-Rokitansky-Kuster-Hauser syndrome (MRKH)
Pregnancy complications
Trauma
Our behavioral health consultants support patients in developing coping skills and strategies to manage emotional or behavioral concerns, such as:
Family or relationship difficulties
Parenting concerns
Sleep problems
Grief and loss
Depression, anxiety or anger problems
We also help patients to develop plans for changing behaviors, such as:
Improving healthy, safe sex practices
Managing weight
Managing alcohol or substance use disorders
Increasing exercise
Other lifestyle changes
Providing Safe Care During COVID-19
Throughout the COVID-19 pandemic, we have maintained our abortion and miscarriage services while launching telephone and video visits for contraceptive counseling. Please note that virtual visits are only available for patients that are in Illinois. During this time, we have taken several steps to provide safe care to our patients, including:
Wearing masks and asking that all patients wear masks during clinic visits
Asking patients to come alone or with just one support person to reduce possible exposure
Minimizing the number of staff members in exam rooms for exams and procedures
Cleaning rooms and exam tables after each patient visit
Obstetrics and Gynecology Articles