Our reproductive genetics experts are now accessible for patients anywhere.
Our understanding of how genes predispose people to certain diseases and health conditions has grown by leaps and bounds in recent decades — and continues to grow every year. At the University of Chicago Medicine, our reproductive genetics specialists are on top of the latest research and discoveries into the human genome. We use those insights to diagnose hard-to-detect diseases, from genetic abnormalities and birth defects detected during pregnancy to gynecologic cancer risk.
Thanks to the widespread adoption of virtual technologies and at-home lab test kits, we are now able to offer genetic consultations for gynecologic cancer screening and prenatal diagnosis — even for patients who may never visit our campus.
Virtual Genetic Consultations for Gynecologic Cancer Screening
Our goal is to help you understand your gynecologic cancer risk by identifying whether you carry genetic markers for certain types of breast, uterine and ovarian cancers. Our genetics experts provide information that will help guide your personalized gynecologic cancer prevention and treatment strategies.
Virtual Genetic Consultations for Prenatal Diagnosis
Our prenatal diagnosis and reproductive genetics specialists can identify your baby's risk for developing genetic diseases. We'll help you prepare to make informed decisions about your baby's health during pregnancy and after birth.
How It Works: Our Telemedicine Approach to Reproductive Genetic Counseling
Here are some examples of ways you can connect with us virtually, even if you're receiving care in another city or state.
Schedule a

video visit

with

our team of genetics experts in the comfort of your own home. Together, we can create a detailed personal and family medical history for you, which will help us identify your own or your baby's risk for potential genetic diseases.

Ask our genetic counselors to arrange genetic lab testing for you. They can also check your insurance coverage. After the test results are in, we can also schedule visit to discuss the findings and counsel you on next steps.

If a blood draw is needed, you can get the test at a lab near your home or we can arrange for a mobile phlebotomist to come to your home to take a blood sample.

If the test only requires a sample of saliva or cells rubbed from inside your cheek, then we can arrange for you to obtain a home testing kit.

Send us (or ask your regular doctor to send us) results of various tests you have had done (for example, blood tests, ultrasounds, MRIs). Our physician specialists can review the images for signs of genetic diseases. Then we can schedule a video visit to discuss the results and a plan of care for controlling or treating the disease.
Advancing Your Care with Reproductive Genetics Expertise
After completion of the consultation, we will send your regular physician a comprehensive letter outlining details of your genetic risk (if any), results of any genetic testing performed and a clearly delineated summary plan for your care.
If testing reveals that there is risk for a genetic disease, we can also connect you with other UChicago Medicine specialists who can talk to you about prevention or treatment options. We understand the importance of support and guidance when patients are confronted with positive test results. Our goal is to empower you to be informed and proactive when it comes to your health.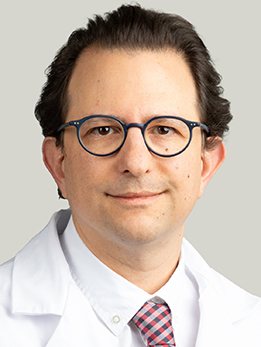 Ryan Longman, MD
Ryan Longman, MD, is a maternal-fetal medicine physician, director of ultrasound and genetics, and director of the Fetal and Neonatal Care Center.
Learn more about Dr. Longman
Request an Appointment
The information you provide will enable us to assist you as efficiently as possible. A representative will contact you within one to two business days to help you schedule an appointment.
Or, if you prefer, you can also schedule an appointment instantly for in-person and video visits through our online scheduling portal.
To speak to someone directly, please call 1-888-824-0200. If you have symptoms of an urgent nature, please call your doctor or go to the emergency room immediately.