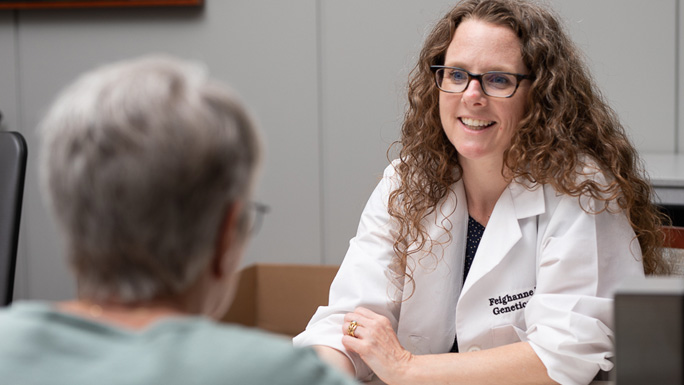 The Comprehensive Cancer Risk and Prevention Clinic at the University of Chicago Medicine is dedicated to identifying and caring for individuals who have an increased risk of cancer due to family history, medical and genetic factors, and/or lifestyle influences. Founded in 1992, our Cancer Risk Clinic was the first in Illinois to provide comprehensive evaluation, prevention and risk reduction for people at high risk for primary or recurrent cancer.
Our genetic counselors and physicians use personal and family history as well as genetic testing to assess cancer risk of individuals and their family members. Once the risks are determined, we offer cancer screening and design a personalized risk reduction plan. Our team works closely with patients and their primary care physicians to develop strategies for following a surveillance and management plan.
Should You Consider Genetic Testing & Counseling for Cancer Risk?
Genetic testing and counseling may be helpful to you and your family if:
You or a close adult relative is diagnosed at a young age (younger than 50 years old)
You have more than one blood relative with the same type of cancer
You or someone in your family has more than one type of cancer
A male member of your family is diagnosed with breast cancer
You have cancer that developed in a set of paired organs (e.g. both breasts, both kidneys)
You are related to someone who has an inherited mutation known to cause cancer
Two Convenient Locations
Our cancer risk and prevention team offers care at the Duchossois Center for Advanced Medicine (DCAM) in Chicago's historic Hyde Park neighborhood as well as at UChicago Medicine Orland Park. Call 1-855-702-8222 to schedule an appointment or complete the request form at the bottom of this page.
Cancer Risk & Prevention Clinic Locations
Request an Appointment
The information you provide on this secure form will enable us to assist you as efficiently as possible. A representative will contact you within one to two business days to help you schedule an appointment with a UChicago Medicine Cancer Risk & Prevention Clinic expert.
You can also make an appointment with our providers by:
– Scheduling a virtual video visit to see a provider from the comfort of your home
– Newly diagnosed patients can schedule a 15-minute introductory Express Expert Cancer Opinion virtual session at no cost
– Requesting an online second opinion from our specialists
To speak to someone directly, please call 1-855-702-8222. If you have symptoms of an urgent nature, please call your doctor or go to the emergency room immediately.
For Referring Physicians
To refer a patient to the Cancer Risk & Prevention Clinic, please call UCM Physician Connect at 1-855-702-8222.
Cancer Risk & Prevention Stories