The Pediatric Familial Cancer Clinic at the University of Chicago Medicine Comer Children's Hospital is dedicated to helping children and their families who may be at an increased risk of cancer.
Not only do we see families with known rare pediatric cancer syndromes, but we also see families with unknown or unidentified syndromes and families with questions about cancer risk.
You and your family may benefit from our clinic if:
You and a first-degree relative (parent, sibling or child) have cancer
You and two second-degree relatives (half-sibling, uncle, aunt, niece, nephew or grandparent) have cancer
You have more than one child who has cancer
Pediatric Cancer Risk Assessment
Cancer results from a combination of both genetic and environmental risk factors. In some families, the genetic risk factors may be increased. Members of these families may be predisposed to develop cancer. Our experts will help determine your risk — and your child's risk — of cancer. We have a dedicated team of physicians, nurses and genetic counselors who will perform a thorough evaluation. During your initial visit, we will take a detailed family profile and in some cases perform blood tests. If appropriate, we will offer genetic testing to you and your family.
Working with prenatal counselors, we also offer counseling to potential parents who are worried about future cancer risk in their children.
Risk Reduction for Children with Cancer
If you, your child or other members of your family are found to be at risk for cancer, we will develop a personalized plan to reduce that risk. Components of these individualized plans may include:
Recommendations for changes in lifestyle, such as diet, exercise and other factors
State-of-the-art cancer prevention drugs
Leading-edge medical technologies that can detect cancer even at its earliest — and most curable — stage
The opportunity to participate in the very latest and most sophisticated clinical trials to prevent and detect cancer
Monitoring and periodic screening tests for early detection
Enrolling in ongoing studies that will evaluate the effectiveness of monitoring techniques
Education about cancer risk reduction methods and health monitoring
Psychological counseling, as needed
Genetic testing, when appropriate
Why Choose UChicago Medicine for Pediatric Cancer Risk
We know that parents just want their children to be healthy and safe. Our Familiar Cancer Clinic has the expertise and support your family needs to help you understand what cancer risk your family may be facing.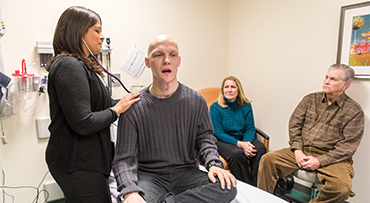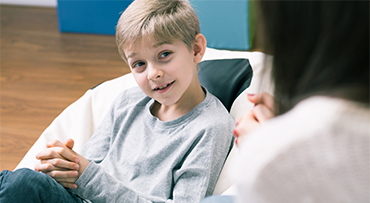 Close Dialog
Coordinated Care
Because familial cancer syndromes are extremely rare, it is critical to have a physician who is an expert in these cancers. Our physicians have years of experience treating and researching rare pediatric cancers. We will coordinate your child's care, including care with other specialists throughout the hospital.
At Comer Children's, we take a multidisciplinary approach to cancer care. Because people with familial cancer syndromes may have other diseases and conditions (such as endocrine disorders and immune defects), this comprehensive approach is crucial. Our clinic routinely works with experts in pediatric endocrinology, pediatric rheumatology, human genetics, and child and adolescent psychiatry.
Emotional Support
We understand how scary — and frustrating — it is to have cancer in your family. We offer a variety of support services for your whole family, including psychiatrists and social workers who specialize in helping children deal with the stress of cancer.
Our staff realizes a cancer diagnosis can often cause a rush of complicated emotions. Sometimes adult family members may feel helpless or guilty at the thought of having passed on this genetic burden to their children. We can refer these adults to various counseling services.
Cancer Risk Experts
Pediatric oncologist Ami Desai, MD, provides dedicated, compassionate care to children who have been diagnosed with cancer and blood diseases, such as neuroblastoma, sarcoma and leukemia. Dr. Desai has a particular interest in investigating and developing novel treatments for childhood cancers.
Melody Perpich, MS, CGC, is a board-certified genetic counselor in the Pediatric Cancer Risk Program at Comer Children's. She received her graduate degree in genetic counseling from the University of Michigan and specializes in cancer genetics and risk assessment. Her clinical interests include prenatal, pediatric, preimplantation and cancer genetics. She has additional expertise in assisted reproductive technologies and how they are useful for cancer patients at risk of losing reproductive potential after cancer treatments.
With a passion for educating patients and medical professionals about genetics, Melody regularly lectures and conducts workshops at local, regional, and national conferences on various topics, including prenatal genetics, teratogens, genetic counseling and preimplantation genetic diagnosis. She has also written and co-authored several articles and developed education materials for community and professional audiences.
Melody serves as a core faculty member and clinical rotation supervisor for the Genetic Counseling Master's Program at Northwestern University.
Contact Us
For more information about our program, please contact: Melody Perpich at 773-702-2594
Pediatric Cancer Articles