Your First Visit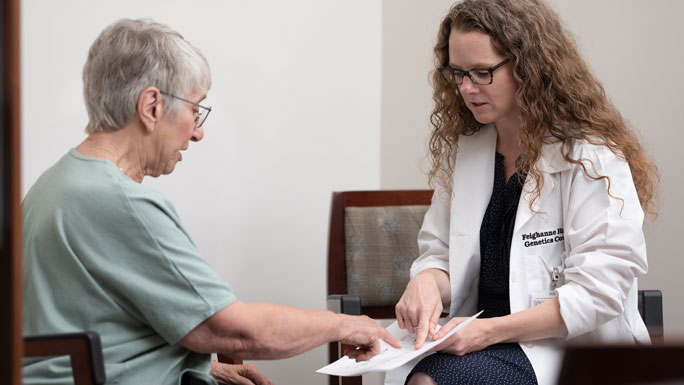 One week before your appointment, one of our genetic counselors will contact you by phone to discuss your personal and family medical history. It is helpful if you gather your medical information in advance of this call as well as any medical history for your immediate family members. If a family member has had cancer, please collect the following information:
Type of cancer
Age of diagnosis
Current age or cause of death, if deceased
Whether a family member developed a second cancer
While correct and complete information is important to assessing cancer risk, we understand it may not be possible to obtain all of the details about your family's history of cancer.
During your first appointment, a team of UChicago Medicine experts — genetic counselors as well as physicians and nurses with expertise in genetics — will perform a comprehensive evaluation and assessment to determine whether you are at increased risk of cancer, and if so, for which types of cancer. The team may evaluate your family as well. If you have a family history of cancer, your detailed family profile will provide the basis for further recommendations. Team members will identify any possible pattern of inheritance.
Genetic Testing for Cancer Risk
Genetic testing is not required for cancer risk counseling and assessment. However, in some cases results from a genetic test may help you and your physician make important decisions about your care. Undergoing genetic testing is the personal choice of each patient.
Genetic testing involves a simple blood test. The blood sample is then sent to a lab that determines if there is a mutation, or change, in the genes that raises the risk of cancer for a patient and family members.
Risk Reduction Plan
After the team has determined where risks exist, they will develop a personalized risk reduction plan. Risk reduction strategies may include:
Careful, systematic monitoring or periodic screening tests for early detection
Changes in diet, exercise or other lifestyle factors
Cancer prevention drugs or procedures
Our staff will work with your primary care or referring physician to ensure that your care is seamless. We will help your physician monitor your risk reduction plan. In addition, you may choose to join an ongoing study evaluating the effectiveness of your risk reduction strategies.
Request an Appointment
The information you provide on this secure form will enable us to assist you as efficiently as possible. A representative will contact you within one to two business days to help you schedule an appointment with a UChicago Medicine Cancer Risk & Prevention Clinic expert.
You can also make an appointment with our providers by:
– Scheduling a virtual video visit to see a provider from the comfort of your home
– Newly diagnosed patients can schedule a 15-minute introductory Express Expert Cancer Opinion virtual session at no cost
– Requesting an online second opinion from our specialists
To speak to someone directly, please call 1-855-702-8222. If you have symptoms of an urgent nature, please call your doctor or go to the emergency room immediately.
For Referring Physicians
To refer a patient to the Cancer Risk & Prevention Clinic, please call UCM Physician Connect at 1-855-702-8222.
Clinical trial evaluates prostate cancer screening technique for high-risk patients
A clinical trial at the UChicago Medicine is evaluating a novel cancer screening protocol for men with a high risk of developing prostate cancer. Mark Vazzana, 47, participated in the new screening regimen in June 2020. Testing found that he is susceptible to cancer. He now has yearly screening tests and a prostate MRI every three years.
Read Vazzana's Story