Clinical Trials
Clinical trials — research studies designed for a select group of patients — are performed to advance knowledge and improve patient care strategies. Clinical trials in the Cancer Risk Clinic at the University of Chicago Medicine focus on genetic studies as well as cancer screening, risk reduction and prevention related to hereditary cancers.
Researching the Genetic Basis of Cancer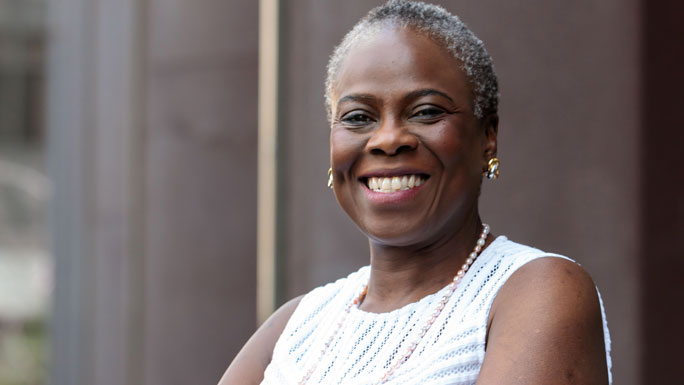 Scientists at UChicago Medicine have been at the forefront of researching and understanding the genetic basis of cancer for more than 40 years.
Research Highlights
1972: Cancer researcher Janet Rowley, MD, identified an exchange of genetic material between two chromosomes in leukemia cells. This "translocation" between genes led to the uncontrolled cell growth of cancer. The discovery led to the identification of other chromosome abnormalities in cancers and laid the groundwork for today's targeted therapies for certain leukemias and other cancers.
1991: Oncologist Olufunmilayo Olopade, MD, opened a lab to investigate a possible genetic predisposition for breast cancer. Seeing a need to more quickly translate advances from genetics research into cancer prevention strategies, Olopade founded the Cancer Risk Clinic at UChicago Medicine the following year.
2005: Olopade reported that mutations in genes that increase the risk of breast cancer (BRCA1 and BRCA2) were prevalent in African-American women and African women, groups that have high mortality rates from the disease. She continues to study the genetic basis of cancer, with a focus on improving global health.
2010: The National Institutes of Health/National Cancer Institute funded a five-year study by Sonia Kupfer, MD, to look at genetic associations in African-American patients who have colorectal cancer.
2013: Former faculty member Jane Churpek, MD, and Olopade, along with colleagues at the University of Washington, conducted a study that confirmed the high prevalence of mutations in cancer susceptibility genes among African-American patients diagnosed with breast cancer or with family history of breast or ovarian cancer.
Today: Researchers at UChicago Medicine continue to search for genetic mutations that may cause people to be vulnerable to cancer. Our research program takes a multidisciplinary approach to studying cancer genetics of people from various racial and ethnic backgrounds in the U.S. and around the world. Focusing on both clinical and basic science research, our ultimate goal is to increase the speed at which laboratory research is translated into health care practices that directly benefit people, especially populations that suffer from a disproportionate burden of cancer.
Request an Appointment
The information you provide on this secure form will enable us to assist you as efficiently as possible. A representative will contact you within one to two business days to help you schedule an appointment with a UChicago Medicine Cancer Risk & Prevention Clinic expert.
You can also make an appointment with our providers by:
– Scheduling a virtual video visit to see a provider from the comfort of your home
– Newly diagnosed patients can schedule a 15-minute introductory Express Expert Cancer Opinion virtual session at no cost
– Requesting an online second opinion from our specialists
To speak to someone directly, please call 1-855-702-8222. If you have symptoms of an urgent nature, please call your doctor or go to the emergency room immediately.
For Referring Physicians
To refer a patient to the Cancer Risk & Prevention Clinic, please call UCM Physician Connect at 1-855-702-8222.
Breast Cancer Screening - Annual vs Personalized
A longstanding debate has stymied the medical community about when and how often women should be screened for breast cancer. The WISDOM study will assess whether personalized screening is as safe, effective and accepted compared to annual screening.