UChicago Medicine's organ transplant team supports patients throughout the entire transplant process. Through revolutionary approaches, our doctors and surgeons strive to transplant patients quickly and ensure exceptional outcomes.
Find a Transplant Expert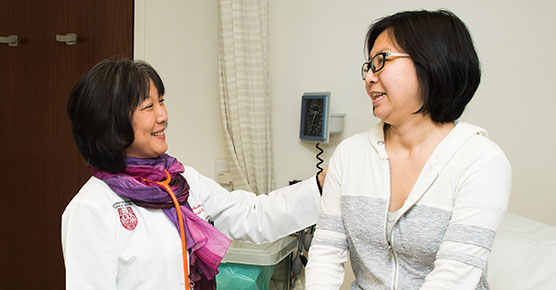 Transplant Wait List
If you are a candidate for transplant, your name will be added to the national waiting list.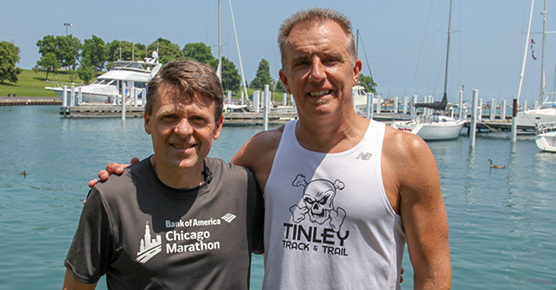 Living Kidney Donation
For many patients waiting for a transplant, living donation is an alternative option that offers hope.
UChicago Medicine performs historic back-to-back triple-organ transplants
Two 29-year-old patients from Michigan and Illinois received back-to-back triple-organ transplants to replace their failing hearts, livers and kidneys. The two surgeries lasted more than 17 and 20 hours each. This marked the first time a U.S. hospital has ever performed more than one of these complex procedures within one year, much less within 27 hours.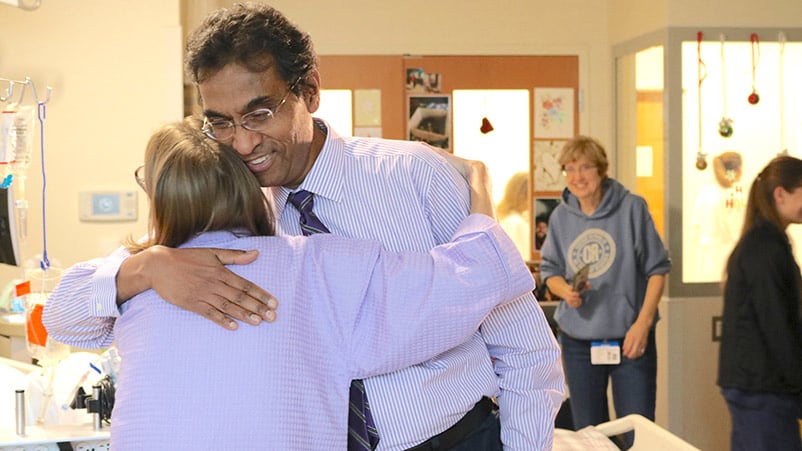 A History of Breakthroughs
UChicago Medicine physicians and scientists discovered breakthroughs that shaped modern medicine and advanced the forefront of science and clinical care.
We are proud to continue advancing the forefront of health every day by bringing research to reality.
Read more about medical breakthroughs at UChicago Medicine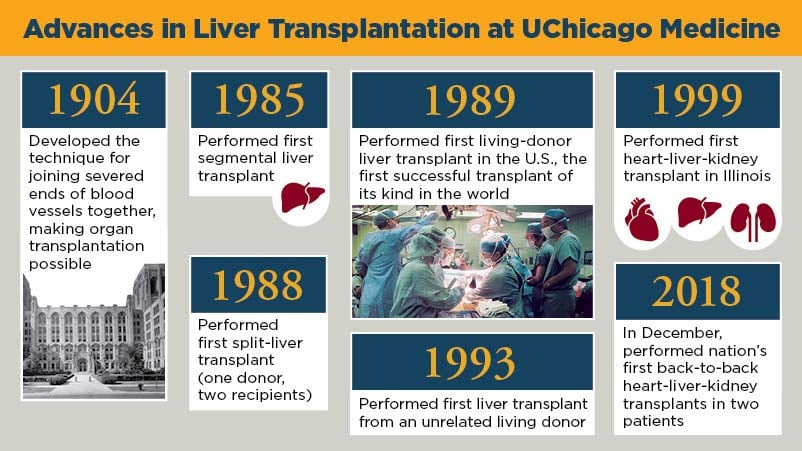 A Milestone in Organ Transplants
Heart and kidney transplant gives man a new life.

Transplant Evaluation Locations
Why Choose Transplant Medicine at UChicago Medicine
Our transplantation surgeons are among the best in the world. They have conducted thousands of procedures, earning national and international recognition for their expertise and research.
Close Dialog
History of Excellence
Organ transplantation began here. In 1904, a University of Chicago doctor performed the first animal organ transplant, which later earned him the Nobel prize. We continue to strive to be a world leader in organ transplantation.
Several transplant firsts occurred here. We were the first in the world to perform a successful living-donor liver transplant and heart-liver-kidney transplant. We were the first in the United States to perform segmental (reduced size) and split-liver transplants. We were the first hospital in Illinois to perform a pancreas transplant, and our center continues to pioneer pancreas transplantation as a promising treatment for type 1 diabetes.
Leaders in Organ Transplantation
Personalized Care at Every Step
We may perform a large number of transplants, but we are dedicated to every one of our patients. During the months leading up to transplant surgery, each patient is assigned to a pre-transplant coordinator — a registered nurse with a special expertise in transplant care. Your pre-transplant coordinator will arrange all of your tests and consultations. She or he is your personal advocate and is always there to address any questions or concerns.
We follow patients very carefully after transplant. All patients visit our Post-Transplant Clinic for regular check ups. In between visits, patients can always reach one of our post-transplant nurses by phone or page any time of the day or night.
Supporting You Through the Transplant Journey
Transplant Research & Innovation
University of Chicago researchers continue to improve transplant care through promising research in several areas.
Our physicians have been pioneers in the development of a biomechanical liver support device that is currently in developmental trials. The goal of these trials is to produce the first approved device to help support a failing liver.
We offer new techniques for matching donor kidneys with recipients, including the use of a highly sensitive fluorescence activated cell sorter. This machine uses advanced technology to help ensure a good match between donor and recipient. Our center is collaborating with several other centers in the Midwest to develop a kidney exchange program to identify patients who have living donors that they are not compatible with who might be able to successfully "swap" kidneys.
Transplant Immunology
The University of Chicago has a long tradition of pioneering breakthrough immunosuppressive therapies, which has helped us achieve some of the highest graft acceptance rates in the country. Our physicians and researchers are considered leaders in immunosuppression — the prevention and treatment of organ rejection. They have helped develop and refine many important anti-rejection medications, including OKT3, which was a mainstay immunosuppression drug for more than a decade.
Clinical trials of new methods of immunosuppression and other aspects of transplant care are always under way at UChicago Medicine. Voluntary participation in clinical trials is available to many patients undergoing treatment here.
Hundreds of Medical Experts
Before and after your transplant, you have access to hundreds of knowledgeable experts at the University of Chicago Medicine. Once you or your loved one becomes a transplant patient here, you enter a world-class medical center that can take care of all your medical needs. UChicago Medicine is home to some of the world's most respected specialists in diabetes, kidney disease, cancer, heart disease, digestive disorders, transplant and more.
Experts in Retransplant Surgery
Our transplant team is highly experienced in performing retransplant surgery — also called redo transplant — for patients who have already had a transplant and now need another transplant to replace a previously donated organ. Retransplant patients require more careful management than first-time transplant patients because the body is more likely to reject an organ after a second or third transplant.
Patient Stories