Every year in the United States, people with liver failure die waiting for a transplant because the need for donor organs is greater than the number of livers available for transplantation. Waiting for a donor liver from the United Network of Organ Sharing (UNOS) is not the only option available to liver failure patients. Because of the liver's amazing ability to regenerate, living liver donors can give part of their healthy liver to a transplant patient and end their long wait for treatment. Living liver donations can save the lives of countless people with end-stage liver disease.
The University of Chicago Medicine has been an important pioneer in the field of liver transplantation. In 1989, our surgical team performed the first successful living donor liver transplant: a parent gave part of her liver to her daughter.
Evaluation and Assessment
If you are considering living liver donation, our liver team will meet with you to discuss the procedure and evaluate your health. During your assessment, you meet with members of the liver transplant team and other medical staff as you go through a series of tests and procedures to help decide on whether you are a good candidate for living liver donation.
Frequently Asked Questions About Living Donor Liver Transplant
No. Although many people end up donating a part of their liver to someone in their family, it's important to know that a person can choose to donate their liver to anyone, be they a friend, coworker or stranger.
In the United States, more than 13,000 people are on the waiting list to receive a liver, but approximately 1,500 patients die waiting for one each year. A living liver transplant can offer a potential recipient the chance for a transplant in a timely and intentional fashion.
Living liver donor surgery can be scheduled when the transplant recipient is in better health — ideally, before the onset of life-threatening complications — and help him or her have the best chance for a successful transplant.
Information for Liver Donors
The liver transplant team at the University of Chicago Medicine is committed to safety and excellence in living donor liver transplant. Choosing to become a living liver donor is an important, personal decision, and we are here to answer any questions you have about living donation.
For an overview of living liver donation and an introduction to the donation evaluation process, watch our Living Donor Liver Transplant Education Video. If you have any questions, please contact our living donor coordinator or another member of the transplant team. They will answer your questions when you come in for an evaluation appointment.
Watch our Living Donor Liver Transplant Education Session.
At The Forefront Live: Organ Donation
Organ and tissue donation is more important now than ever before. Iheoma Okeke-Banks from the non-profit organization Gift of Hope and liver transplant recipient Brad Goodman discuss.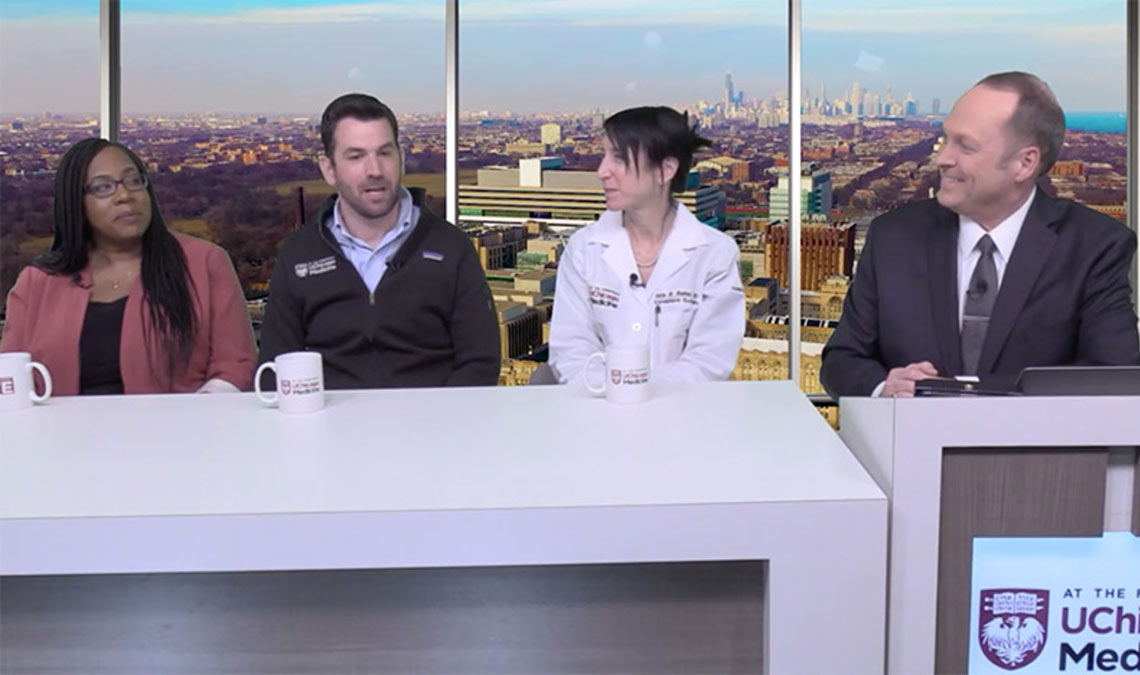 Patient Information
Your care and well-being are our primary concerns, and we want your stay to be as comfortable as possible.
See all patient resources
Second Opinions
Seeking the opinion of an expert can ease your mind and help you feel more secure in the medical decisions you are making.
Request a second opinion
U.S. News & World Report Rankings
We continue to place highly in categories in the U.S. News & World Report annual rankings. See our full list of ranked specialties.
U.S. News & World Report Rankings
---
Directions & Parking
Step-by-step instructions on how to get to our main campus by car and public transportation.
Get directions
Classes & Events
We offer relevant classes, screenings and support groups to help you lead a healthier life.
See all classes and events