What is a liver transplant evaluation?
At UChicago Medicine, we have established a comprehensive process to determine the best candidates for liver transplant. We offer new approaches of transplantation for liver diseases from both living and deceased donors not offered by many centers.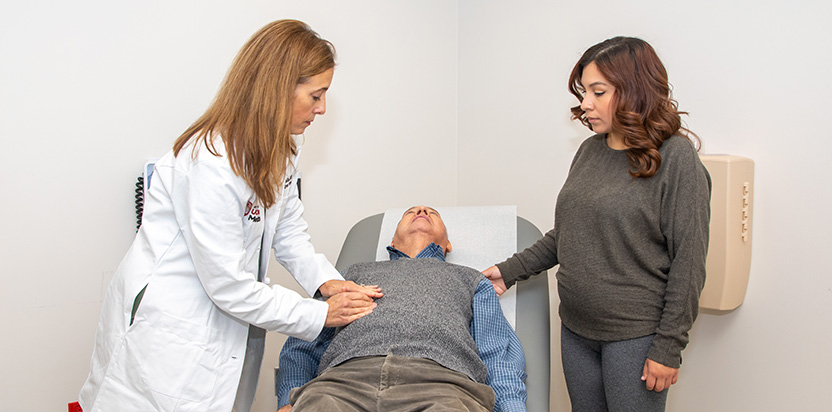 If you are considering a liver transplant at UChicago Medicine, you will meet with our transplant team and have tests to see if you are healthy enough for surgery. You will also learn more about getting a liver transplant from our transplant team.
If I have liver failure, at what point should I be evaluated for transplant?
If you have liver disease or failure, also known as end-stage liver disease, you may be a candidate for liver transplant. Patients with certain unresectable liver cancers are also considered for novel therapies that include transplantation. Our team will work with you to determine the best approach based on your condition.
Why should I be evaluated for a liver transplant at UChicago Medicine?
We provide life-saving transplants to patients with all types of liver disease. This includes those who are very ill and those who are not considered candidates at other hospitals. We offer many new and innovative approaches for patients with diseases related to cancers, alcohol or multiple organ failure. We also consider transplantation for patients early in the disease process to prevent significant disability or medical complications.
UChicago Medicine's liver team transplants patients at a faster rate and with better waitlist survival rates than almost any other program in the country.
Our team can determine if you are a candidate for a living liver donor transplant, which gives you more options for donor organs. Living donor liver transplantation offers numerous benefits for patients, including the best outcomes and shorter waiting times on a waiting list. We can also determine if there are any other treatments that may help you if a transplant is not the best option.
See a map of our liver transplant evaluation locations in Chicagoland
How do I get evaluated for a liver transplant?
To get the process started, call us directly at 773-702-4500. Our team can evaluate you for a liver transplant or provide a second opinion. You can expect to meet with a member of the liver transplant team within a couple weeks, either in-person or virtually.
The entire process of getting evaluated for a liver transplant can take several weeks or months, depending on how quickly you can complete your testing. The tests you need will depend on your underlying cause of liver disease and how advanced your disease is. For significantly ill patients requiring hospitalization, transplant evaluations can be performed in a matter of days.
What is involved in a liver transplant evaluation?
As part of your evaluation, you will meet with several members of our liver transplant team. These meetings may be virtual or in-person. Members of our transplant team are also multilingual, and we can provide interpreters for most languages. Following are some of the team members you will likely meet:
A nurse coordinator

, who will provide education and help you move through the evaluation process.

A transplant surgeon, who will discuss the risks and benefits of surgery with you and evaluate your health to determine if you are a good transplant candidate.
A transplant hepatologist, a physician who specializes in liver disease and the management of liver transplant patients.
A social worker, who will evaluate how well you may handle the stress of a transplant and manage your care plan, before and after surgery.
A clinical psychologist or

psychiatrist

, who may evaluate your mental health and suggest rehabilitation programs for drug or alcohol abuse, if needed.
A dietitian, who will assess your diet and provide education before and after transplant to improve your chances of a successful transplant.
A pharmacist, who will work with you and the transplant team to find the best medicines to prevent organ rejection and minimize side effects.
A financial coordinator, who will discuss the costs of your transplant and help you understand what your insurance covers.
An interpreter, who can help you communicate with your transplant team, if needed.
Depending on your health and insurance requirements, you may meet with other specialists during your evaluation. This can help improve the success of the transplant.
The evaluation process begins with a class on liver transplant taught by a nurse coordinator. You can attend this class in-person or virtually. (We also offer transplant education in Spanish, and we can provide interpreters for most languages.)
The next part of your evaluation includes testing and meeting with the transplant team in person.
What tests do I need for a liver transplant?
Following are some of the tests that are part of your evaluation:
Blood work to help determine the cause of your liver disease, screen for other diseases and help with organ matching.
A chest X-ray to check the health of your lungs or heart.
An electrocardiogram, an echocardiogram and a stress test, which can help physicians determine if you are healthy enough for transplant surgery.
Pulmonary function tests to check your lungs.
A computed tomography (CT) or magnetic resonance imaging (MRI) scan to check your liver for high blood pressure, tumors and issues that can affect blood flow to your liver.
A liver biopsy, an outpatient procedure to remove a small piece of liver tissue for examination.
Cancer screenings, such as mammograms and colonoscopies, based on your age and gender.
A dental exam to check the health of your teeth and gums.
Drug testing to ensure that you are following the alcohol and substance abuse policy.
If you want to be considered for a liver transplant at UChicago Medicine, it is very important that you keep your testing appointments and follow the guidelines outlined by your team.
How do I find out if I am a candidate for a liver transplant?
Our liver transplant team will meet with you and review your tests to decide if you are a candidate for a liver transplant at UChicago Medicine. You will receive a phone call and a letter from your nurse with the decision.
If you are accepted as a candidate for a liver transplant, our team will place you on the organ waiting list or work with you to schedule your surgery if a living donor is available. The team will also notify you if they need more information to make a decision.
Should I be evaluated for a liver transplant at multiple centers?
If you have been told that you are not a candidate for liver transplant from either a living or deceased donor, we encourage you to seek another opinion here at UChicago Medicine. Our program offers new approaches toward complicated cases that have been declined by other centers, and we can review your case to determine your eligibility.
Patients with living donors have a good chance of being accepted for full re-evaluation. You may be able to share records and results from recent tests (no older than six to 12 months) to avoid duplication, although multiple evaluations can be time consuming and lead to out-of-pocket costs. Candidates deemed not suitable for transplant at our center are likewise able to seek out opinions from other centers.
Request an Appointment
The information you provide will enable us to assist you as efficiently as possible. A representative will contact you within one to two business days to help you schedule an appointment.
You can also make an appointment with our providers by:
– Scheduling a virtual video visit to see a provider from the comfort of your home
– Requesting an online second opinion from our specialists
To speak to someone directly, please call 1-888-824-0200. If you have symptoms of an urgent nature, please call your doctor or go to the emergency room immediately.