Travel & Concierge Services
Our Destination UChicago Medicine team provides concierge services for U.S. patients who live outside the Chicago area and are traveling to UChicago Medicine for care. Our dedicated team of professional, compassionate navigators is ready to assist you with a variety of care and travel arrangements, including:
Scheduling appointments with our physicians and providers, whether this is your first visit or a follow-up appointment
Gathering your medical records from various providers so our physicians can have a full picture of your health and medical history
Recommending hotels, restaurants and tourist activities in and around our medical campus
Providing a welcome packet with appointment details and UChicago Medicine resource information
Escorting you around our medical campus to your appointment(s) so you don't have to worry about getting lost, at your request
Traveling for care can be overwhelming and our goal is to make your trip as smooth as possible. Our team assists with patient needs and requests before you arrive at UChicago Medicine and during your visit.
To request assistance, please connect with the team:
Destination UChicago Medicine
773-702-0525
destinationuchicago@uchicagomedicine.org
Resources:
UChicago Medicine Travel Guide
Hotel Accommodations & Discounts
UChicago Medicine Clinical Centers of Excellence
Well, I'm 22 years old, and I like to hang out with my family and friends. I play a lot of video games. When I do get active, I like to go outside and throw the ball with my dog.

Logan Andrews is a typical young man. You wouldn't know by looking at him that he recently had a heart and liver transplant.

I was born with a congenital heart defect called hypoplastic left heart. And so the left pulmonary artery is not equal to the right. I had a very different experience from the kids I grew up with. I was very limited to sports. I didn't exactly go out and be the all-star football player. I was very to myself most of the time. I did play baseball for a couple of years, which was fun.

Hypoplastic left heart syndrome is a serious condition that damaged Logan's liver. He needed a new heart and a new liver. But the family lives in North Carolina, a long way from UChicago Medicine and its top notch transplant team. That's where the Destination UChicago Medicine team proved to be such a tremendous asset.

Destination UChicago Medicine is a program that was implemented to help our out-of-state patients and those who travel from a far distance. It also is a place where people who have longer stays can come in and gather resources. Primarily, we assist with scheduling appointments, navigation throughout the medical center, hotel and transportation options, and then any pre- and post-follow-up questions that may arise.

The team really goes over and beyond for our patients. I mean, some of them can be just as close as Kankakee, or they could be as far as New Mexico. And the team is just phenomenal how they go over and beyond for every single one of our patients just to give that high-touch service.

Destination UChicago Medicine has been working with Logan's family for years. He had multiple hospitalizations and surgeries. So when the family got the great news they were finally on the transplant list, they called Kimberly.

She called the office, and she stated, I just have to share this with you because I feel like you've been a part of this process with my family. And we both cried. I was so overjoyed. I can hear the joy in her voice, and it was like, wow, this has finally happened after many years. This has been a journey for them.

Patients are usually referred by physicians or care teams. Destination UChicago Medicine works with hotels and organizations that help with long-term housing for patients' families. They also have navigators who help patients work their way through a very complex system.

Very important, and actually it helps out a lot. I know that living in big cities like this is not always manageably affordable sometimes. So this program's really helped us out a bunch. And we really thank you all for that.

Logan had his transplant last October and is doing well. He wants to study marketing and live a full life.

Have my own family one day. And just live life and enjoy it, and do things that I couldn't do before surgery.

[MUSIC PLAYING]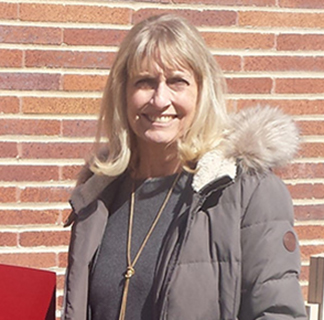 Stella Stiver of Albuquerque
Stella was anxious about having surgery 1,300 miles from home. But one conversation with a Destination UChicago Medicine patient navigator went a long way to ease her concerns.
Read Stella's story
Health & Science Articles