Why Choose UChicago Medicine for Heart Care
[MUSIC PLAYING]
To a build a team, a team that share values — the values that are caring to each other, caring for the patient, and take the patient as a role, and not ourself. As such, we develop a system that work as a team and not as an individual.
The Advanced Heart Failure Program at University of Chicago is about 25 years old, and it's really a very special program. And people always say, well, what distinguishes the program? And over the last couple of years, the real distinguishing features are our outcomes, which are some of the best in the country, if not the best in the country. And we really pride ourselves on that.
Went in July 26 for the test, and right there in the room, Dr. Sayer — he told me that I need a new heart. So that was July 26. So they put me in the hospital right then. And then on August 10, I got put on the list. And then two days later, on August 12, one of my colleagues called the hospital and said that one of her relatives had passed away and that they wanted to donate his heart to me.
We got an offer. And I said, how is it possible that we're getting an offer? We just list the guy. And I said, no, near — this is a direct offer. This is going only Brian. This is a heart for him. And I said, wow. How can it be? It was a heart that one of the teacher from Brian high school — one of her family member passed away, and she knew that Brian is waiting for the heart transplant, and the family agreed to donate the heart for him. And it was a perfect fit.
The donor family — just how grateful I am. Not only for me, but for my family. Obviously I wanted to stick around and see my kids and be productive and effective in life, but my kids get to see me too.
Patients who absolutely will not take blood, even if it means death. And many programs will not transplant or put LVADs in that patient population, because they don't want that mortality reflecting in their statistics. We've taken on probably a more spiritual, kind of universal approach and said that if these patients need to have therapy, then maybe we're the ones who can give them that therapy.
I'm from Nashville, Tennessee, and I was a very healthy 47-year-old that was very active. I was active in my ministry. I enjoyed outdoor activity. In fact, before this all happened, I was getting ready to go snow skiing.
The University of Chicago was actually on a list that we have that would accept ones like Lisa to do bloodless surgery.
[ INTERPOSING VOICES]
He was just so — I mean, really comforting. He was willing to do what I needed and respect my faith.
So yes, transplant is about something that is spiritual sometimes — feeling that I will never understand. It's written somewhere else. And even though I fought and I believe other in the team that she doesn't have the time. She knew, inside of her, by the way — Lisa knew that she will be OK
You just get stronger and stronger, and then I look back, and wow — it's like really, really came a long way.
They treated us like family. And then when we were having the bad days, they come and give you a hug.
Yeah, we got the —
[ INTERPOSING VOICES]
They said 50% of the family could get it, and two of the four got it.
Yeah.
I didn't get my dad's blue eyes, but I got his heart failure.
One is Ron. One is Robert. One is young. One is older. The younger get the transplant before the older, so he actually became the older of the younger. So this is a really wonderful, wonderful story.
I was shocked, too, because I came with him. I knew he wasn't feeling good, but I didn't think he was that bad. We see him in the hospital, I mean, he's got the balloon pump going, and I'm like, holy crap, Ron. I'm sorry, you know?
Well, the thing was, when he was in the hospital and he already got his heart, I made the comment — I said, I'm kind of jealous. I said, look at that nice heartbeat, and not thinking anything would ever happen about that —
Yeah, I remember that.
— compared to my heartbeat.
[ INTERPOSING VOICES]
It was just — it's surreal. You actually feel like you did before the disease was starting to get bad.
But in the end of the day, it's about continuing life and to continue to be alive. So for me, Lisa Whitley, the [INAUDIBLE], Brian Clark, Sarah in the room, and all the people that sit here is about continuing life.
That spirit that the program brings, that allows me to be able to expand what I can do and help patients — is what keeps me going. Wakes me up in the morning.
The acclaimed heart transplant program at the University of Chicago Medicine has some of the most experienced cardiologists and cardiac surgeons in the country. We have been performing heart transplants for more than 30 years and continue to advance our knowledge and expertise in transplantation to allow us to provide unparalleled care to our patients.
A Team Approach
A heart transplant is a complex procedure, so at UChicago Medicine, we take a collaborative team approach to each patient's treatment — from candidate evaluation through post-procedure care. Our multidisciplinary transplant team includes cardiologists, cardiac surgeons, nurses, cardiac rehabilitation specialists and social workers. Together, these specialists provide the highest level of care and support before, during and after transplantation.
Transplanting High-Risk Patients
We welcome complicated transplant cases, and many of our patients are considered high-risk, including those who require re-transplantation.
In addition, we are one of the most experienced medical centers in the world offering multiple organ transplantation. Our cardiac surgeons collaborate with other UChicago Medicine transplant surgeons to perform heart-lung, heart-liver, heart-kidney-pancreas combinations.
Proven Success & Continued Excellence
The outlook for patients who have heart transplants here is excellent — our results are among the best in the nation. We have a long history of providing superb transplant care, and we are continuing to build upon our success through surgical innovation and world-class medical care.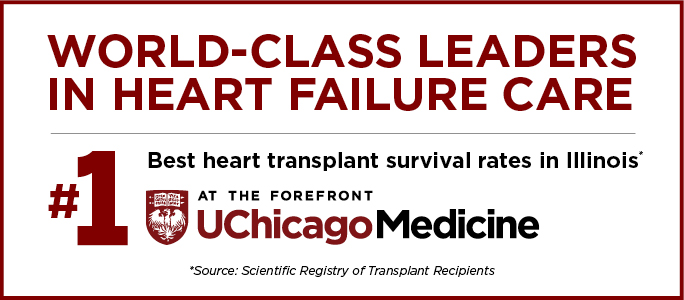 UChicago Medicine performs historic back-to-back triple-organ transplants
Two 29-year-old patients from Michigan and Illinois received back-to-back triple-organ transplants to replace their failing hearts, livers and kidneys. This marked the first time a U.S. hospital has ever performed more than one of these complex procedures within one year, much less within 27 hours.
Learn more about the historic triple-organ transplants
A heart transplant patient's journey, 'From very ill to embracing life'
In March 2016, a donor heart became available for Kay Fricke, and the transplant surgery and her recovery went smoothly. "Kay's new heart has allowed her to do things she had never done before," Uriel said. "Seeing her go from very ill to embracing life is, for me, the biggest joy."
Read about Kay's heart transplant journey
Learn more about heart failure and transplants