The Nation's Best Heart Transplant Program
[AUDIO LOGO] So UChicago Medicine has a very rich and long history of transplantation. Heart transplant has taken on that tradition and now has become one of the leading programs in the country under the banner of UChicago Medicine.

It is very rare for a program to have the highest survival rates in the country, which we have had over the last two years, and at the same time, have the shortest wait time for organs. And historically, no one has ever been the best at both. And UChicago's program over the last three years has been the best both in wait times, the shortest wait times, and in survival.

The way we achieve such short wait times at the University of Chicago is multifactorial. The first thing from a recipient standpoint, we bring people in the hospital at the time where they're most likely to get transplanted-- when they're most ill and ready for transplant.

The second thing is in terms of our donor selection. We have a very aggressive approach to selecting and taking donors that other centers may decline. We're willing to travel very large distances and use some fairly advanced technology to allow us to extend preservation time and accept organs from all over the United States.

We asked the question of how can we make you a transplant candidate? Whereas, maybe other programs look at it as, are you a transplant candidate here? We really go out of our way to make sure that we can do everything that we can so that the patient is a transplant candidate.

And that goes from multiple ways. That's from clinically. Can we optimize you to make sure that you go into surgery as best as possible? Can we educate you and make sure that how to get your medications, what your medications are? Do you have the social support that you need? We really go at it from all different sides.

Sensitization in heart transplantation is when a patient has an immune response that has created antibodies in their body, antibodies that can reject a potential organ and can get to the point where a highly sensitized patient is no longer able to receive any organ. And what we do at UChicago Medicine is we take those individuals and evaluate them and do what we can to try and find organs for them to give them a chance at being an organ transplant recipient.

Sometimes, it's a matter of medications that we can give to challenge the immune system, to suppress the immune system, and reduce those antibodies that individual has. It is often also a combination of using diagnostic testing, special tests that we have learned to use to try and quantify which antibodies are the ones that we really need to stay away from. And oftentimes, it's a combination of these strategies that really helps us identify an organ that can be transplanted into our recipient.

We do roughly-- it depends on the year, but UChicago Medicine does roughly about 60 transplants a year. And about 25% of that volume are multi-organ transplants. The majority of those are heart, kidney transplants. But we also do a number of heart, liver transplants and heart, liver, kidney transplants.

And I think what it comes down to is that we have a really collaborative multidisciplinary team of surgeons, physicians, nurses, nurse practitioners, pharmacists, social workers who work together really well, not only in cardiology and cardiac surgery, but across all disciplines. And so I think it comes down to communication and trust. And I think that really lends to our ability to take on these really complicated cases and do multi-organ transplants successfully.

We've started to push into bloodless multi-organ transplants. And I do think over the next couple of years, we'll find sort of new frontiers and new boundaries.

I came to the University of Chicago in the fall of 2018. I had been being worked up for a heart, liver, and kidney transplant. We met with Dr. Jeevanandam, and we were extremely hopeful that he thought it would be a success.

I loved how we immediately became a family, and we became very hopeful and optimistic and positive that the staff here was going to make this work. And all their expertise and professionalism was really going to pull through.

And now, I'm doing fantastic. I really have no restrictions from the team. I am working 40 hours a week here at the hospital. And I have completed in a bunch of five Ks in the hustle, which is the John Hancock stair climb of 94 flights. Just great.

I think we ensure the best outcomes for patients in our program because we're really able to address all of their needs. It's not just one specific thing, like we're just addressing their heart. It's really holistic, and so we're able to clinically manage them. We're able to give them a lot of education. We're able to socially support them psychosocially and psychologically. And then whatever other help they need, we're able to really cater to their specific needs for each patient.

At the University of Chicago Medicine's heart transplant program, we continue to innovate. We're working very hard in the field of donation after circulatory death. We're also working with xenotransplantation, which is transplanting pigs into humans.

And we're working very hard in the field of, how do you get a patient to a transplant? And we're continuing to innovate with micro-assist devices to get patients to transplant. So all that combined, we're allowing people to live a much better life and a longer life.
The Heart Transplant Program at the University of Chicago Medicine has some of the most experienced cardiologists and cardiac surgeons in the country. We have been performing heart transplants for more than 40 years and continue to advance our knowledge and expertise in transplantation to allow us to provide unparalleled care to our patients.
Leading Illinois in Heart Transplants
UChicago Medicine set a new Illinois record by completing 66 successful heart transplants in 2022. Our nationally and internationally respected program surpassed their own previous record of 61 heart transplants in 2021. Learn more about our heart transplant program's success.
5-Star Heart Transplant Care
UChicago Medicine has a 5-star rating from the Scientific Registry of Transplant Recipients for our expertise in heart transplant. We routinely take extremely challenging cases, which include patients who are denied care at other hospitals around the country, and provide the life-saving treatment they need. Our esteemed 5-star rating is a recognition that we offer exceptional care to heart transplant patients, which includes the:
| | |
| --- | --- |
| Shortest: | We have the shortest wait times in the nation for receiving a donor heart. |
| Best: | We have the best survival rates in the country for heart transplant patients. |
| Highest: | We have the highest proportion of African American patients transplanted in the United States. |
A Team Approach to Heart Transplantation
At UChicago Medicine, we take a collaborative team approach to each patient's treatment — from candidate evaluation through post-procedure care. Our multidisciplinary transplant team includes cardiologists, cardiac surgeons, nurses, cardiac rehabilitation specialists and social workers that work together to provide the highest level of care and support.
Transplanting High-Risk Patients
Lane Jenkins Received Bloodless Heart Transplant
[MUSIC PLAYING] I would say, before my activities were always been golfing, basketball, bowling. And I felt to the point where I couldn't do any of those things again. Fatigue, shortness of breath. It's extremely important based on Bible principles that blood is sacred. We view blood as sacred. And it's not that we don't want to live or get the best medical care possible. No, it's just that is what is outlined in God's word, the Bible.
So for me, it's extremely important. And it's a life decision that I will not take blood. And we have a hospital liaison committee. And they had recommended University of Chicago as one of the places that was definitely excellent in doing bloodless surgery. And because of that, their team reached out to me here in Chicago. They reached out to my wife and myself, explaining exactly what they do, exactly what time frame that they do it in.
And based on the recommendation of the HLC and their representatives, then I was able to make a decision. Definitely, Jehovah was able to guide me in the right direction. And that's one reason why we chose here at the University of Chicago.
He went up and down the West Coast. Went to other programs that say they do bloodless surgery but the results weren't great and they weren't really interested in taking care of him, because not only did he need bloodless surgery, he was also ill. And his pressures in his heart were very high. His output was low. And he was in borderline kidney failure.
And so we actually spoke to his cardiologist per the request of the family. And even the cardiologist when he spoke to Dr. Jay said, are you guys sure you can do this because he has this and this. And Dr. Jeevanandam said, yeah, we can do it.
My goal when I was in the hospital, I kept telling myself, I got to do what I have to do so I can get back home to my babies. Being a dad with two girls is a little sentimental. But I kept telling myself, I got to get back home to my babies, I got to get back home to my babies.
What makes us able to do these patients that other people won't do is when you have a good program, you can have a certain margin of error. But with patients who need very, very tight margins of error, like almost no error at all, you need to have a superlative team. And that's exactly what we've done. So we've created a superlative team.
That starts with our cardiologists, and they understand what Jehovah's Witnesses need to go through. Then you have the surgical team. When we operate, it's not like every surgeon does this. So we have a specific group of surgeons, we have a specific group of physician assistant, nurses, perfusionists that take care of these patients.
And so everybody's in sync. Almost, you don't have to talk to each other because we all know what we're going to do. And know all the little things that we do to preserve blood. And we go after every single area where we can lose blood.
So I think within a week or so he got a heart, it worked out great. And his pressures were high in the beginning but we knew how to manage them even in Jehovah's Witness. Those pressures then normally came down when the heart was good. And he [INAUDIBLE]. I think, he left the hospital in a very short period of time, like 14 to 21 days. And he's doing great.
My life is, it's funny. It's a lot better. Not just a lot better, it's very, very good, it's fabulous actually. To be able to walk, to be able to even run a little bit now. i'm starting running. To be able to go play golf, to be able to do all the activities I was doing without being hampered with being tired or fatigued, those things, I can't describe the feeling. It is so wonderful to be able to do those things on a regular basis.
Because when you say heart transplant, everybody, your peers, your friends are like, heart transplant, that's major. But when you're at the University of Chicago, when you're there with the team, and you see how regularly they do these things, it puts you at ease.
We welcome complicated transplant cases, and many of our patients are considered high-risk, including those who require re-transplantation or bloodless surgeries.
Our team is also advancing heart transplant care by performing transplantation with a heart donation after circulatory death (DCD), a technique that may help patients get transplanted faster.
Additionally, we are one of the most experienced medical centers in the world for multi-organ transplantation. Our cardiac surgeons collaborate with other UChicago Medicine transplant surgeons to perform heart-lung, heart-liver, heart-liver-kidney and heart-kidney-pancreas transplant combinations.
Proven Success and Continued Excellence Post Transplant
The outlook for patients who have heart transplants here is excellent — our results are among the best in the nation. We have a long history of providing superb transplant care, and we are continuing to build upon our success through surgical innovation and world-class medical care.
Heart Transplant Process
If you are a candidate for transplant, you can learn more about our heart transplant surgery process.
Conditions That Lead to Heart Transplantation
In most cases, heart failure is caused by an underlying, progressive illness. If you have an underlying condition that is not being managed, it can weaken your heart and exacerbate heart failure, requiring heart transplantation. Some of the conditions that lead to transplantation include: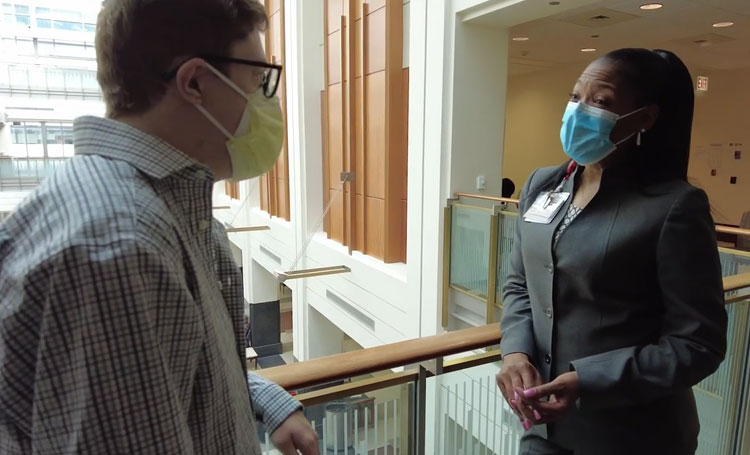 Request an Appointment
The information you provide will enable us to assist you as efficiently as possible. A representative will contact you within one to two business days to help you schedule an appointment.
To speak to someone directly, please call 1-773-702-9461. If you have symptoms of an urgent nature, please call your doctor or go to the emergency room immediately.
Learn more about heart failure and transplants