Our Experts Have the Experience to Treat Complex Transplant Cases
The University of Chicago Medicine transplant surgeons and physicians have the sophisticated medical and surgical expertise as well as the advanced technology required to provide care for patients with rare and complex medical conditions. They can perform multi-organ transplant operations that cannot be performed at other medical centers. Our patients are typically very, very sick when they arrive. They suffer from multiple health problems and have often been turned away by other transplant programs.
When it comes to multiple-organ transplants, UChicago Medicine transplant surgeons are considered some of the most experienced in the world. Many firsts in multiple-organ transplants have occurred at the University of Chicago's hospitals, including:
The first successful heart-liver-kidney transplant in the world
The first heart-kidney-pancreas transplant in Illinois
The first time a U.S. hospital has ever performed more than one triple-organ transplant within one year. Our team performed two of these complex procedures back-to-back within 27 hours.
Our expert surgeons work side-by-side with specialists in infectious diseases, critical care medicine and other specialties in order to provide the close attention these patients need before, during and after surgery.
Heart and kidney transplant gives man a new life
Tom Gnadt feels like he's fortunate to be alive.

So positive. So blessed. Just being the 100th transplant here, just blew my mind.

Since 1984, nearly 600 transplants have been done at the University of Chicago Medicine. Tom is the 100th person to receive a transplant since the program was rejuvenated just three years ago.

Since we revamp our program, change the personnel, change the protocol, we changed 100 patients life. It's a landmark. 100 is always a nice number, but for us, it's not a number. It's another patient that have a beautiful life now to spend with his wife and kids. And each one of those patients is so special.

The success rate of the program has been very good.

It's a high-risk program, but when you have a high-risk program with great survival, that is exemplary.

These dedicated men and women work in one of the very rare elite medical facilities to transplant people who have tested positive for HIV, people with religious beliefs that preclude them from receiving blood products, and multiple organ transplant patients. They take on the most difficult cases and still get outstanding results.

You could get great results if you super select your patients. Don't give therapy to people who potentially could benefit from it to protect their statistics, but I can tell you that we don't do that. I mean, we take on very difficult patients.

Transplant work takes a big team from social workers who provide support and evaluation to nurses, cardiologists, physical therapists, and surgeons. The University of Chicago team uses the newest technology to help get these positive results. Tom is a beneficiary of all this technology combined with teamwork.

His operation's gone well, and he's done fantastic. So he's kind of the epitome of the high-risk patients we do because he was multiple organ, the new technology that we've used, which is the iVas, which is a technology that we're the only ones in the world who have, and using all that combination, he end up getting his heart-kidney transplant in a very short period of time.

Tom used the NuPulse iVas device. It is minimally invasive and helps with circulation. It allowed Tom to actually go home for a time and build his strength as he waited for a donor heart.

Somehow I was lucky enough to get on to this NuPulse, this beautiful thing that made me be able to walk again a little bit and breathe a little bit better and get ready for this.

Tom says his caregivers have been fantastic at the University of Chicago Medicine.

So attentive, they listen to me. If I tell them something's hurting, they listen to me.

They have helped him on his journey to a new life, and he doesn't take the second chance for granted.

It's all ahead of me. Sum it up in a few words. I mean, like I said, I want to change the world and make it a better place.

Tom is an example of teamwork, research, and technology coming together to change and save a life. It's a special blend of work that's not lost on those involved with the transplant program.

72 hours after the surgery, he is already on the floor walking around, and have a new heart and new kidney and a new life.
Leaders in Complex Transplants
With one of the nation's leading organ transplant programs, UChicago Medicine has performed more heart-liver-kidney transplants than any other institution. We continue to build upon our success and history of innovation to bring the best possible outcomes to our patients, including (left to right) Neil Perry, Daru Smith, Sarah McPharlin and Apurva Patel who all received triple-organ transplants within a year's time.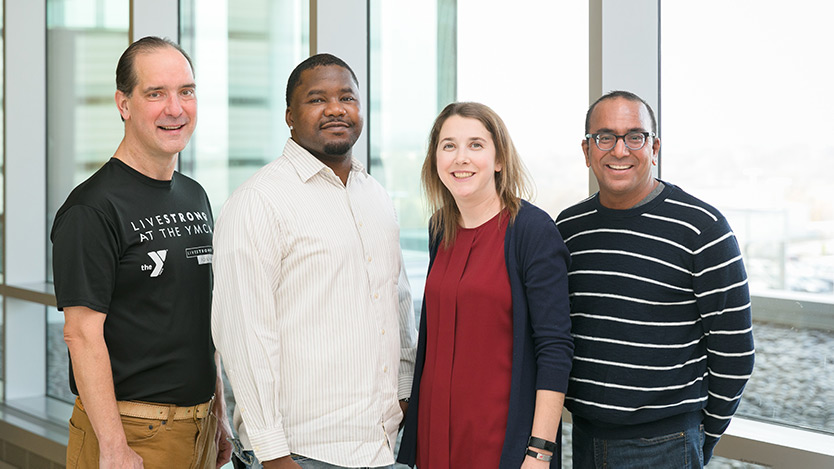 One Year Anniversary of Historic Back-to-Back Triple Transplants
UChicago Medicine physicians made history after performing two triple-organ transplants within 27 hours, replacing the failing hearts, livers and kidneys of then-29-year-olds Sarah McPharlin and Daru Smith. They join us with their doctors to reflect.