Our Experts Have the Experience to Treat the Most Complex Transplant Cases
The University of Chicago Medicine transplant surgeons and physicians have the sophisticated medical and surgical expertise as well as the advanced technology required to provide care for patients with rare and complex medical conditions. They can perform multi-organ transplant operations that cannot be performed at other medical centers. Our patients are typically very, very sick when they arrive. They suffer from multiple health problems and have often been turned away by other transplant programs.
Common multi-organ transplant surgeries include:
Heart-kidney transplant
Heart-liver transplant
Kidney-pancreas transplant
When it comes to multiple-organ transplants, UChicago Medicine transplant surgeons are considered some of the most experienced in the world. Many firsts in multiple-organ transplants have occurred at the University of Chicago's hospitals, including:
The first successful heart-liver-kidney transplant in the world
The first heart-kidney-pancreas transplant in Illinois
The first time a U.S. hospital has ever performed more than one triple-organ transplant within one year. Our team performed two of these complex procedures back-to-back within 27 hours.
Our expert surgeons work side-by-side with specialists in infectious diseases, critical care medicine and other specialties in order to provide the close attention these patients need before, during and after surgery.
Triple transplant, one year later
[MUSIC PLAYING] In December of 2018, something extraordinary happened at the University of Chicago Medicine. Back-to-back triple organ transplants were performed for the very first time. Two patients received new hearts, livers, and kidneys.

Both Sarah McPharlin and Daru Smith are doing well today. Their story of friendship, a bond formed through incredible adversity, captured the attention of millions. Since their amazing surgeries, the team at UChicago Medicine has performed four more triple transplants. No other medical facility in the world has done as many.

You have to have patience who have the disease process that requires triple organs, but you need to have the courage and the drive and the dedication to be able to undergo a massive operation and survive. And I think that's where the courage of our patients really comes and resonates.

I mean, the first thought when I wake up, man, I got this. I can do this. You can do this, Daru. You can do this, and I think that's what get me through, my personal mantras, my personal motivation, having a positive mindset regardless of what happens.

Wonderful, actually like amazing. Like I was saying, the difference between the two, it's been a full 360. It's been like a year of growth. So for so long, I had to kind of always be with my mom where right now we're working on independence and going for getting back to a job.

Performing six of the triple transplants in a 12-month period is an incredible feat. Patients from all over the country are coming to UChicago Medicine for the extremely difficult procedures.

It's a very complex symphony that needs to be executed perfectly. An analogy is like pitching a perfect game except we've had to do it six times in one year, and I don't think anybody else has been able to do that.

Sarah and Daru's story has been an inspiration to others-- Daru's story of strength while thinking of his little boy and wanting to be there while he grows up; Sarah working as a volunteer at UChicago Medicine after her transplant, even talking to other triple-transplant patients, helping them on their difficult journey.

They're my heroes. It's been quite a journey. And to the land here and be on their team is what is really a thrill.

55-year-old Neil Perry and 45-year-old Apurva Patel are two of the other triple-transplant patients who followed Sarah and Daru.

Yeah, I think Daru and I, our friendship that we kind of had built to kind of gave some positivity to proceed with their surgeries. And then we all kind of go through the same thing afterwards.

Dara and Sarah, like I say, they went through there. They blazed a trail, and I went right through it. Then Apu was right behind me.

I feel great. It's pretty amazing that you can leave the surgery and literally 12 hours later or 24 hours later they're asking you to walk around. I mean, it's science fiction is what it is.

Neil suffered from heart issues since birth and wasn't expected to live to adulthood. Apurva had a different situation. Doctors think he has a rare autoimmune disease. Both have wonderful attitudes and a sense of humor that helps them cope with the challenges of the transplants. Apurva says his wife keeps him laughing too.

She jokes about it. She's like, all these years I just thought you were lazy, and all of a sudden-- [LAUGHS]. You might have had a reason for that.

Neil traveled from Kentucky to have his transplants and now wants to live here permanently. Apurva traveled from Washington, DC. He was born and raised in the Chicagoland area but wants to return to his family when the doctors allow. Both men are grateful for their care and amazed how they feel so soon after a major surgery.

I did think I might be laid up for six months or a year or just rehabbing. But it was two or three days later I was walking around the room and then around and around. I couldn't believe it.

I was telling someone, I don't think I had one bad encounter with a health professional at U of C, right, whether it be a doctor-- the nurses are fantastic. And I wasn't a guest. I was a permanent resident for 110 days, right? I mean, it's like I lived there. They see me at my worst. They see me at my best. They see me at my grumpiest. They see me at my most disgusting. And the care was just pretty phenomenal.

All of the transplant patients are thankful for the second chance at life given to them in the most selfless act of all by donors and their families.

I am just forever grateful for the donors and the families, and I want them to know that I live my life to the fullest for myself but also for their loved one.

We're grateful, very grateful, and I want to use my life to help others.

But the people I've met, the people who have received similar gifts as me, I think all, to the person, feel that same way. And I think that's a testament to the awesome power of the gift, the fact that it does change lives and transform lives and transforms people.

We love you, and thank you so much.
Leaders in Complex Transplants
With one of the nation's leading organ transplant programs, UChicago Medicine has performed more heart-liver-kidney transplants than any other institution. We continue to build upon our success and history of innovation to bring the best possible outcomes to our patients, including (left to right) Neil Perry, Daru Smith, Sarah McPharlin and Apurva Patel who all received triple-organ transplants within a year's time.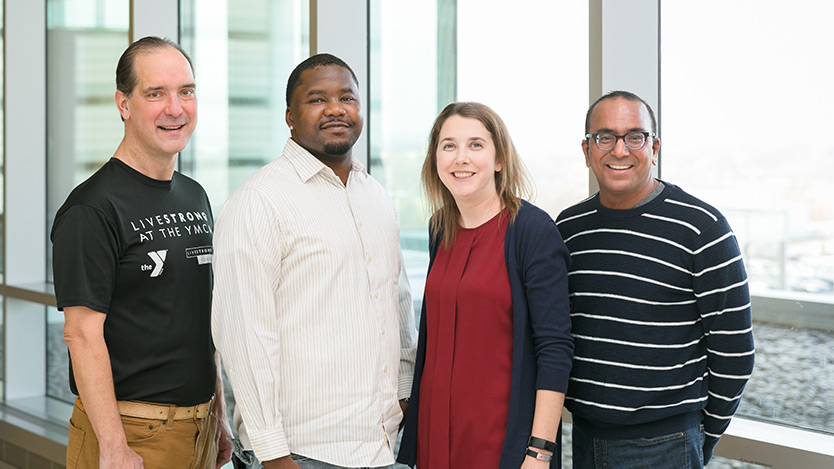 Help When Traveling from Outside the Chicago Area for Medical Care
For Logan Andrews and his family, traveling from North Carolina to Chicago for Logan's heart and liver transplant care required special assistance beyond medical expertise. The family turned to the Destination UChicago Medicine team to help scheduling appointments, arranging travel and finding accommodations.