What if I am on the Transplant Wait List?
If you are a candidate for transplant, your name will be added to the national waiting list. The national list is maintained by the United Network for Organ Sharing (UNOS). UNOS is responsible for keeping the national list up to date and for collecting information about organ donors and transplant recipients.
How is an Organ Matched with a Transplant Candidate?
Gift of Hope (GOH) is the organ procurement organization responsible for our local area. When an organ becomes available, GOH will check a list of suitable recipients in the area whose blood type is compatible with the donor.
When a matching organ becomes available, the organ is generally offered to the transplant candidate who has waited the longest and is in the most need at the time. If that patient cannot be transplanted at that time, the next patient on the list will be offered the organ.
You will not lose your spot on the waiting list if you have an illness at the time an organ becomes available.
It is possible to be offered an organ at any point after you are placed on the list, even though waiting time is a major factor in the list ranking.
Donated organs are usually from deceased donors who have suffered a brain injury or stroke, but their organs are still working with the help of life-support equipment and medications.
Support Groups
You should also consider coming to our quarterly support groups for transplant patients. These meetings are an opportunity to meet other transplant patients who know exactly what you're going through. Our transplant social worker can provide you with more information on these meetings.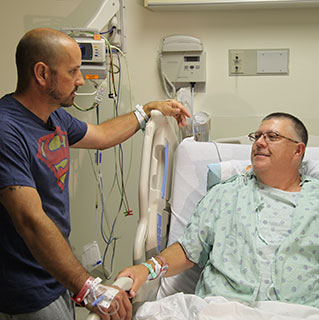 What is a Living Organ Donor?
Living donors can donate a kidney or a part of their liver to another person in need of one of these organs. If receiving a living-donor organ is an option for you, you will receive more information about that process. If you have a living donor, you will be able to schedule that surgery and avoid waiting on the UNOS waiting list.
Learn about living organ donation
Living Donor Champion Program
UChicago Medicine offers the Living Donor Champion Program, a unique program for patients on the kidney transplant waiting list. Patients choose a "champion" – a friend or family member – who helps them share their story to find potential living donors.
Read about the champion program
Patient Information
Your care and well-being are our primary concerns, and we want your stay to be as comfortable as possible.
See all patient resources
Second Opinions
Seeking the opinion of an expert can ease your mind and help you feel more secure in the medical decisions you are making.
Request a second opinion
Clinical Trials
Our research helps health care professionals around the world better treat diseases, conditions and disorders.
View all clinical trials
---
Health Library
Find patient education resources about medical conditions and treatments, including videos, quizzes and risk assessments.
Explore A-Z health topics
Classes & Events
We offer relevant classes, screenings and support groups to help you lead a healthier life.
See all classes and events