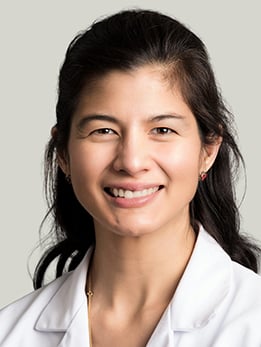 Thoracic Surgery, Transplant | More
Assistant Professor of Surgery
A clinically integrated network of physicians and providers employed by UChicago Medicine who offer care in inpatient, community, ambulatory, acute care or extended care settings.
Close
773-702-2500
Maria Lucia Madariaga, MD, is a highly skilled thoracic surgeon who specializes in a wide range of lung conditions, including airway disorders, benign and cancerous esophageal disease, and metastatic tumors. Dr. Madariaga has particular expertise in treating patients with complex airway disorders, such as tracheal stenosis, tracheomalacia and tracheal cancers, and performing lung transplants.
Dr. Madariaga also has extensive background in transplant immunology and large animal research, and she is the principal investigator of the organ perfusion laboratory at the University of Chicago. Her research has been published in several highly respected, peer-reviewed journals, including the Annals of Thoracic Surgery, Journal of Thoracic and Cardiovascular Surgery and American Journal of Transplantation.
Along with her clinical and academic pursuits, Dr. Madariaga is also passionate about mentoring medical school students and residents, providing guidance, insight and advice as they move through their careers.