Protect Yourself and Others from the Flu
Getting a flu shot, is the best way to lower the risk of influenza (the flu). The flu vaccine also lowers the risk of spreading the virus to family members, friends and people you work with. To protect yourself and others from getting the flu, it is best to get vaccinated in early fall before flu season begins.
Flu Clinic Locations & Hours
Fall/Winter 2019-2020
The University of Chicago Medicine offers flu shots for our existing patients at several convenient locations on the South Side and in the south suburbs.
South Side
We offer clinics on Chicago's South Side in the Hyde Park and South Shore neighborhoods.
South Suburbs
Our south suburban clinic locations are in Crestwood and Orland Park.
Location
UChicago Medicine at Ingalls - Crestwood
4742 Cal Sag Road, Crestwood, IL 60445
Who qualifies?
UChicago Medicine Ingalls Memorial patients

When can I get the flu shot?
Available through May 2020

Schedule
Monday through Friday, 8 a.m. to 8 p.m.
Saturday and Sunday, 8 a.m. to 4 p.m.
Walk-ins are accepted.
Flu vaccination will cost $25, if not covered by prescription insurance.
Location
UChicago Medicine Orland Park
14290 S. LaGrange Road, Orland Park, IL


Who qualifies?
Patients with care established at UChicago Medicine
Patients age six months and older
When can I get the flu shot?
Available September 16, 2019 through March 30, 2020
Schedule
Mondays
5 p.m. to 7:30 p.m.
Appointments preferred, but walk-ins are accepted. Please contact 1-888-824-0200 to schedule an appointment. Administration fees will apply.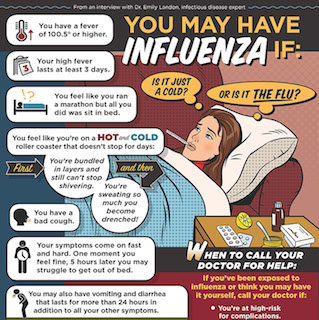 Prepare Yourself for Flu Season
Like clockwork each winter, your friends and family start coughing and sniffling. Winter illnesses — particularly influenza — can mean days or even weeks of misery. But there is good news: preventing the spread of flu, or minimizing its severity, is relatively simple.
Easy Steps to Help Prevent Flu