Skip to content
The latest scientific advances in blood cancers shared at international meeting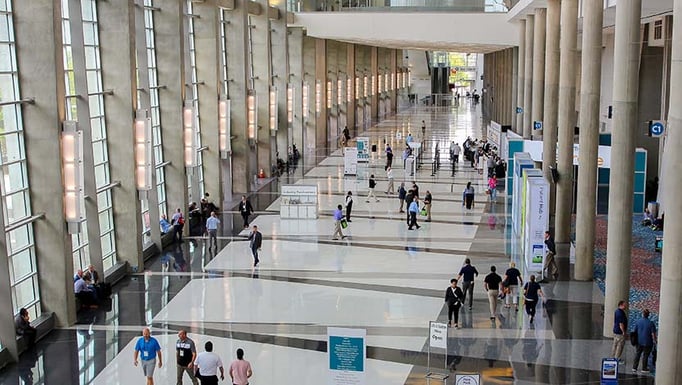 The 63rd Annual Meeting of the American Society of Hematology
The 63rd Annual Meeting and Exposition of the American Society of Hematology (ASH) took place December 11-14, 2021, in Atlanta, with the option to attend virtually due to the ongoing COVID-19 pandemic and the emergence of the Omicron variant. ASH is the world's largest professional society concerned with the causes and treatments of blood disorders.
In attendance were physicians, scientists, trainees, advocates and patients from around the world. The hybrid format of the meeting allowed colleagues to share the newest advances in hematology – both in person and from the comfort of home. Although #ASH21 was the official Twitter hashtag to follow meeting news, #ASHHaiku and #ASHKudos revealed budding poets and recognized colleagues' achievements, respectively.
Expert faculty from the University of Chicago Medicine Comprehensive Cancer Center presented new clinical research results and updates, and some were recognized with awards or elected to new positions.
Wendy Stock, MD, Anjuli Seth Nayak Professor of Medicine, was elected to serve a four-year term on the ASH Executive Committee as councilor. Her term officially began after the Annual Meeting.
In addition to presenting their work at the meeting, several UChicago cancer trainees received abstract awards. Second-year hematology/oncology fellow Caner Saygin, MD, was selected to receive an Abstract Achievement Award. He was also selected as one of 17 outstanding fellows to receive the 2021 ASH Research Training Award for Fellows (RTAF), a year-long program that aims to encourage careers in academic hematology by providing protected research time during training.
Undergraduate Nicole Arellano and graduate Harrison Greenbaum, who both work in the lab of Shannon Elf, PhD, were also selected to receive ASH Abstract Achievement Awards.
Juan Ibarra, a graduate of the Committee on Cancer Biology, received the ASH Minority Graduate Student Abstract Achievement Award.
In total, there were 105 sessions in which UChicago was involved. Here are a few highlights from the science presented at the meeting:
As part of a late-breaking abstract session, Michael Bishop, MD, Professor of Medicine and Director of the hematopoietic stem cell transplantation program, reported results from a Phase III study testing the CAR T-cell therapy tisagenlecleucel (tisa-cel) against the standard of care for relapsed or refractory aggressive B-cell non-Hodgkin lymphoma. Surprisingly, the CAR T-cell therapy had not improved event-free survival although previous CAR T trials have shown improved clinical outcomes. According to the researchers, this may reflect variability in the patient population, timing and administration of tisa-cel and stem cell transplants, and use of chemotherapy in real-world settings.
Benjamin Derman, MD, Assistant Professor of Medicine, presented results from a Phase II study of extended daratumumab, carfilzomib, lenalidomide, and dexamethasone, a treatment known as Dara-KRd, in patients with newly diagnosed multiple myeloma. They found that the combination of Dara-KRd as extended frontline therapy without employing autologous stem cell transplant can induce high rates of no measurable residual disease within 8 cycles, exceeding the historical stringent complete response rate of the standard of care. Importantly, the rate and depth of no measurable residual disease improve beyond cycle 8, suggesting that extended Dara-KRd without stem cell transplant may generate outcomes comparable to KRd with transplant.
Andrzej Jakubowiak, MD, PhD, Professor of Medicine and Director of the myeloma program, presented data on the efficacy and safety of ciltacabtagene autoleucel (cilta-cel) in patients with relapsed/refractory multiple myeloma, as part of the CARTITUDE-1 study. The study showed that all evaluated subgroups in CARTITUDE-1 had deep, durable responses at median follow-up of 18 months following a single infusion of cilta-cel.
Three faculty members spoke at the Friday Satellite Symposia. Michael Bishop, MD, presented "Advances in CAR-T Cell Therapy Across Hematologic Malignancies: From Pipeline to Clinical Practice"; Sonali M. Smith, MD, Elwood V. Jensen Professor in Medicine and Section Chief of Hematology/Oncology, presented "Bridging Clinical Gaps in B-Cell Lymphomas: Linking Novel Mechanisms to Advance New Treatment Strategies"; and Peter Riedell, MD, Assistant Professor of Medicine, presented "Taking the Turn to Treatment Innovation in DLBCL: Real-World Insight on Integrating Antibodies and Cellular Therapy into Patient Care."
Smith also moderated a session on "Clinical Trial Challenges: From the Bench to the Patient" during Friday's Scientific Workshops.
Lucy Godley, MD, PhD, Hospira Foundation Professor of Medicine and Human Genetics, co-chaired and moderated a Scientific Workshop on germline predisposition to hematologic malignancies and bone marrow failure.
Justin Kline, MD, Associate Professor of Medicine, moderated an Oral and Poster Abstract Session on non-genetic lymphoma biology. In that same session, his laboratory presented a paper showing that there are unique immune environments in diffuse large B cell lymphoma (DLBCL). By using a novel immunogenomic platform, they found that these immune environments were associated with specific oncogenic alterations, which may impact response to checkpoint blockage therapy in DLBCL.
At the ASH/FDA Joint Symposium on Newly Approved Drugs, Richard Larson, MD, Professor of Medicine and Director of the hematologic malignancies program, discussed the treatment landscape for relapsed/refractory adult acute lymphoblastic leukemia; and Sonali Smith, MD, discussed expanding the treatment landscape for follicular lymphomas.
James LaBelle, MD, PhD, Associate Professor of Pediatrics and Director of the hematopoietic stem cell transplantation program, participated in a session on bone marrow transplants in adult and pediatric patients. He also moderated the session on "Allogeneic Transplantation: Conditioning Regimens, Engraftment and Acute Toxicities; Novel Conditioning Approaches."
As part of the ASH-a-Palooza programming for trainees, Olatoyosi Odenike, MD, Professor of Medicine and Director of the Leukemia Program, led sessions on adult clinical malignant hematology; James LaBelle, MD, PhD, led sessions on adult and pediatric bone marrow transplantation; and Jill de Jong, MD, PhD, Associate Professor of Pediatrics and Director of pediatric hematology, led sessions on pediatric clinical non-malignant hematology. Ajay Major, MD, MBA, chief fellow in hematology/oncology, participated in the planning of trainee activities as a member of the ASH Trainee Council.
Additional UChicago Medicine faculty that led research presented as posters describing their latest findings are listed here:
Hongtao Liu, MD, PhD

View the complete list of 2021 ASH Annual Meeting presentations in which UChicago Medicine physicians and scientists were the speaker, chair, moderator or co-author.
The 64th ASH Annual Meeting and Exposition is scheduled for December 10-13, 2022, and will be held in New Orleans, LA.
7th Annual Updates from ASH 2021: Practice Changing Abstracts
Earn the credit you need! The 7th Annual Updates from ASH 2021 conference is accredited for nursing, ABIM MOC II, and ABP MOC II credit! Cover cutting-edge data, therapeutic advances, and more while fulfilling your continuing medical education needs.
Register now