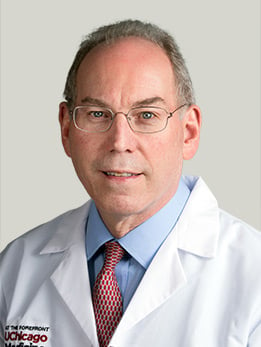 Hematology and Oncology (Cancer) | More
Associate Professor of Medicine
A clinically integrated network of physicians and providers employed by UChicago Medicine who offer care in inpatient, community, ambulatory, acute care or extended care settings.
Close
855-702-8222
Michael J. Thirman, MD, specializes in the medical management of adults with hematologic disorders, leukemia, lymphoma, myelodysplastic syndromes, and myeloproliferative disorders. His laboratory focuses on the role of MLL fusion proteins in the development of leukemia. The overall goals of his research are to understand the mechanisms that mediate transformation of normal hematopoietic stem cells and to develop targeted therapies based on these insights. Dr. Thirman also directs clinical trials in acute myeloid leukemia and chronic lymphocytic leukemia.
An active researcher, Dr. Thirman has published more than 65 papers, reviews, and book chapters on clinical and laboratory studies in leukemia and lymphoma. He serves on the editorial board of Blood Advances, the Medical Advisory Board of the Leukemia Research Foundation, and the Board of Trustees of the Illinois chapter of the Leukemia and Lymphoma Society. He is a recipient of the Stohlman Scholar Award by the Leukemia and Lymphoma Society and was selected as a Chicago Magazine Top Cancer Doctor.