Low-Grade vs. High-Grade Ovarian Cancer
Low-grade cancers tend to grow more slowly, while high-grade cancers grow more quickly and are more likely to spread. Epithelial ovarian cancers occur in the tissues that line the outer surfaces of the ovaries. Low-grade ovarian cancer subtypes make up about 10% of all epithelial ovarian cancer cases.
Symptoms
The symptoms of low-grade ovarian cancer are often vague, and include the following:
Bloating
Abdominal or pelvic pain
Changes in bowel movements
Feeling full quickly when eating
These symptoms are the same as other ovarian cancers, including high-grade serous ovarian cancer.
Diagnosis
Unlike high-grade cancers, low-grade ovarian cancers do not respond well to conventional chemotherapy and may respond better to aggressive surgery and endocrine (hormone) therapy, and possibly other targeted therapies.

As a result, the correct diagnosis is critical to creating the best treatment plan. This distinction is made with a microscopic assessment of the cancer cells by a pathologist. At UChicago Medicine Comprehensive Cancer Center, our dedicated gynecologic pathologists are expertly trained and experienced in ensuring an accurate diagnosis, whether you choose to have your care at UChicago Medicine or if you come to us for a second opinion.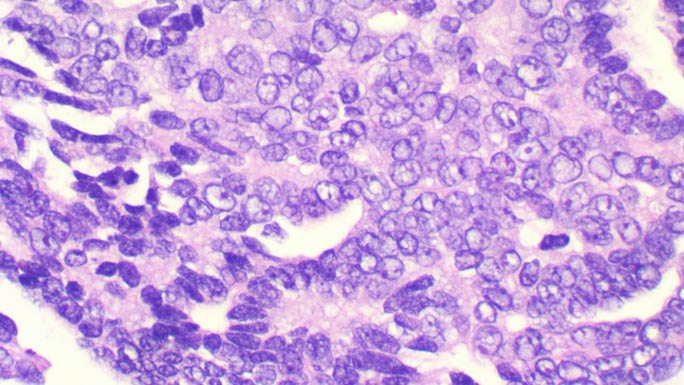 Initial Treatment for Low-Grade Epithelial Ovarian Cancer
Surgery is a critical component of the initial treatment for low-grade ovarian cancer. Our team of gynecologic cancer specialists will discuss in detail the extent of surgery that is needed based on your cancer. Whenever possible, we use minimally invasive (laparoscopic) surgical techniques that allow for smaller incisions. This approach typically results in a faster recovery, minimal scarring, and a reduced risk for post-surgical complications as compared to a traditional open surgical procedure. Tissue removed during surgery will be reviewed by our expert gynecologic pathologists to confirm an accurate diagnosis. Information from the pathologist's report will guide an individualized follow-up plan that is tailored to your needs.
For young patients of childbearing age, fertility-sparing surgery may be possible. We also collaborate closely with our reproductive endocrinology and infertility team to ensure all potential reproductive considerations are being addressed before surgery. Learn more about oncofertility.

In situations where cancer has spread more widely, our surgeons take a more aggressive approach to remove affected tissues. Our highly skilled team of gynecologic cancer surgeons has a track record of excellent surgical outcomes with high rates of removing all visible cancer—an important factor that significantly improves cancer-related outcomes. When needed, we also frequently partner with our surgical oncology colleagues to maximize the chances of completely removing cancer from areas that are more difficult to access.
Treatment for Recurrent Low-Grade Ovarian Cancer
Unfortunately, for many women with low-grade ovarian cancer, recurrence will happen at some point. Depending upon where and how quickly the cancer returns, treatment for recurrent low-grade ovarian cancer may include surgery, systemic therapy—such as chemotherapy or hormone receptor-targeting agents—or a combination of surgery and other therapeutic options. We take the best, individualized approach based on your specific symptoms, imaging findings and previous treatments. In these situations, some treatments that target specific tumor mutations may be most appropriate for certain patients.
Newer Treatments for Low-Grade Cancers
Since conventional chemotherapy fails to work well in many low-grade cancers, newer, more effective treatments for this rare cancer type are urgently needed. We offer enrollment in various clinical trials, which give our patients access to promising new treatments that may be more successful at targeting low-grade ovarian cancers. These options are frequently changing as we open new trials and complete other trials. If you are interested in learning more about our clinical trials, please schedule an appointment or contact us for more details.
Convenient Locations for Gynecologic Oncology Care
Request an Appointment
The information you provide will enable us to assist you as efficiently as possible. A representative will contact you within one to two business days to help you schedule an appointment.
You can also make an appointment with our providers by:
– Scheduling a virtual video visit to see a provider from the comfort of your home
– Requesting an online second opinion from our specialists
To speak to someone directly, please call 1-888-824-0200. If you have symptoms of an urgent nature, please call your doctor or go to the emergency room immediately.