Borderline ovarian tumors, often referred to as "low malignant potential" tumors, are not invasive but also not completely benign. Their behavior can also vary based on microscopic features, and some are more likely to recur or spread than others.
Diagnosis
A borderline ovarian tumor can be suspected based on imaging, such as ultrasound or MRI. However, the diagnosis can only be made by microscopic assessment after surgery, which includes removal of either the mass alone or the affected ovary and fallopian tube.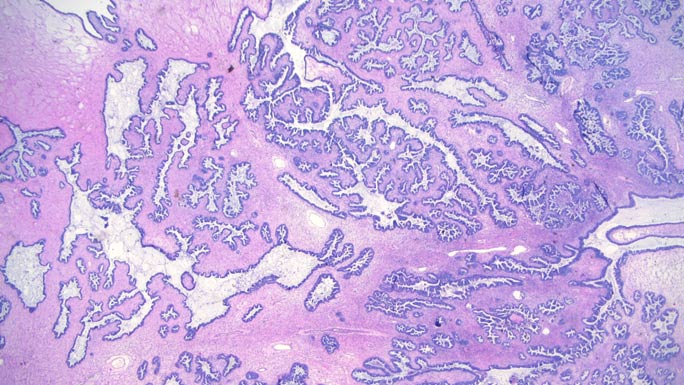 Treatment
For nearly all borderline tumors, surgery is the only treatment needed – even when borderline tumors have spread to other areas. In some situations, endocrine (hormone) therapy after surgery may be considered. In young patients, fertility-sparing surgery or preservation of an unaffected ovary to avoid surgical menopause is often possible. Surgical menopause refers to menopause that is caused by the surgical removal of the ovaries, as compared to menopause that occurs as part of the natural aging process. Learn more about fertility services for cancer patients.
Our team of gynecologic cancer specialists will discuss in detail the extent of surgery that is indicated based on your specific needs. Whenever possible, we use minimally invasive (laparoscopic) surgery that is performed through smaller incisions. This approach typically results in a faster recovery, minimal scarring, and a reduced risk for post-surgical complications as compared to a traditional open surgical procedure. Tissue removed during surgery will be reviewed by our expert gynecologic pathologists to confirm an accurate diagnosis. Information from the pathologist's report will guide an individualized follow-up plan that is tailored to your needs.
Surveillance After Treatment
Patients with borderline ovarian tumors will need to continue long-term follow-up care. In women who still have one ovary after their initial surgery, periodic imaging with ultrasound may be recommended. Although the risk of recurrence is low overall, some borderline tumors can recur several years after initial diagnosis.
It is rare, but borderline tumors can recur as slow-growing, low-grade cancers that require more aggressive treatment. Our team will provide you with a detailed plan for your follow-up surveillance care. For patients who do not live close to UChicago Medicine, this plan frequently includes your general gynecologist closer to home to ensure safe and convenient follow-up care.


Treatment for Recurrent Borderline Ovarian Tumors
Approximately 10% of borderline tumors may recur either as borderline tumors or as invasive cancers. Recurrences are typically treated surgically, both to ensure there is not a low-grade cancer component and because borderline tumors often do not respond well to systemic treatments such as chemotherapy. Our gynecologic cancer surgeons use minimally invasive (laparoscopic) techniques for recurrences whenever possible, depending on the location of the tumor.
When needed, our highly skilled team of surgeons also excels at performing complex debulking surgeries to remove as much tumor as possible, which is similar to the treatment approach for advanced ovarian cancer. With appropriate surgery, many patients will experience a long remission. In many instances, we consider doing surgery at the time of a second or later recurrence. Our team of experts is highly experienced in managing ovarian masses, including borderline tumors, and will work with you to find the right approach to ensure the best possible outcome.
Convenient Locations for Gynecologic Oncology Care
Request an Appointment
The information you provide will enable us to assist you as efficiently as possible. A representative will contact you within one to two business days to help you schedule an appointment.
You can also make an appointment with our providers by:
– Scheduling a virtual video visit to see a provider from the comfort of your home
– Requesting an online second opinion from our specialists
To speak to someone directly, please call 1-888-824-0200. If you have symptoms of an urgent nature, please call your doctor or go to the emergency room immediately.