Mucinous ovarian cancer is a rare subtype of ovarian cancer. About 2-3% of new ovarian cancers are mucinous (cells are large and filled with fluid), meaning that most of the tumor is made up of cells coated in mucus.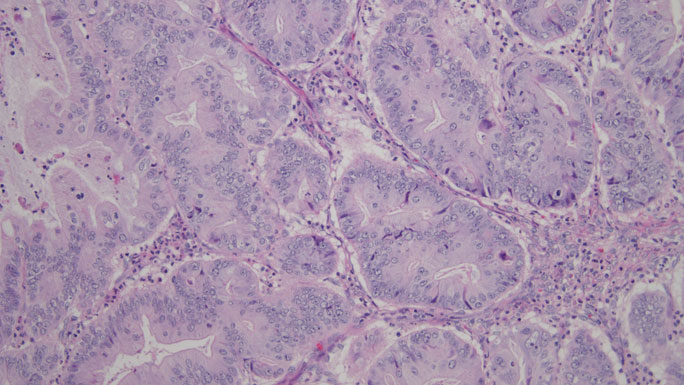 Symptoms and Diagnosis
Many patients with this type of ovarian cancer will have a very large ovarian mass and might experience symptoms such as:
Bloating

Pain

Feeling full quickly

Feeling a mass in your belly

Fatigue
Because of these symptoms, and the fact that these tumors are rather large, mucinous ovarian cancer is sometimes found earlier than other types of ovarian cancer. Unfortunately, it has often spread by the time it is diagnosed. One of the unique characteristics of mucinous ovarian cancer is that, under the microscope, it can appear similar to cancers that arise from the gastrointestinal (GI) tract. Due to these similarities, it can be difficult to distinguish whether it is truly ovarian cancer or cancer that has spread from a different part of the body. For this reason, it is imperative that the correct diagnosis is made.
Whether you come to the University of Chicago Medicine for surgery or if it was done elsewhere and you come to us for another opinion, our gynecologic pathologists have extensive experience evaluating rare ovarian cancers and are highly skilled at making the correct diagnosis.
Initial Treatment
Like other types of ovarian cancer, surgery is often an important component of treatment. We have a team of gynecologic cancer surgeons who are experienced in treating mucinous ovarian cancer. For patients of childbearing age, we consult with reproductive endocrinologists to develop a fertility-sparing treatment plan to give the patient a chance to carry a pregnancy in the future. For more advanced mucinous ovarian cancers, treatments can include aggressive surgical procedures to remove areas where cancer has already spread.

In select patients, we may consider adding heated intraperitoneal chemotherapy (HIPEC) at the time of surgery, which is performed in partnership with our surgical oncology team. In cases where cancer has spread, and in some cases where it is diagnosed earlier in its course, chemotherapy may be recommended. This decision is usually based on findings at the time of surgery and the gynecologic pathologist's final diagnosis after careful review of the case.

Even if you do not live in the Chicago area, we have experience giving expert second opinions after we obtain relevant imaging and pathology and laboratory results from your physician. In some instances, second opinion cases are presented at multidisciplinary tumor board meetings.


Treatment for Recurrent Mucinous Ovarian Cancer and Newer Therapies
If mucinous ovarian cancer comes back, chemotherapy is often an important part of treatment. However, in select cases, surgery and possibly HIPEC may be recommended. One of the current debates is whether traditional ovarian cancer chemotherapies or gastrointestinal cancer chemotherapies are the best courses of treatment.

We take a multidisciplinary approach to make this decision on a case-by-case basis, both at the time of diagnosis as well as if the cancer returns. Our mucinous ovarian cancer team includes gynecologic oncologists, gynecologic pathologists, surgical oncologists and medical oncologists with expertise in gastrointestinal cancers.

We also have a robust clinical trials program to help our patients achieve positive outcomes. We are constantly looking at new targeted therapies, immunotherapies and combinations of treatments that could change future treatment approaches to mucinous ovarian cancer. If indicated, we will also evaluate your family members in our cancer prevention clinic to help them understand if they are at a higher risk for developing cancer.
Convenient Locations for Gynecologic Oncology Care
Request an Appointment
The information you provide will enable us to assist you as efficiently as possible. A representative will contact you within one to two business days to help you schedule an appointment.
You can also make an appointment with our providers by:
– Scheduling a virtual video visit to see a provider from the comfort of your home
– Requesting an online second opinion from our specialists
To speak to someone directly, please call 1-888-824-0200. If you have symptoms of an urgent nature, please call your doctor or go to the emergency room immediately.