Ovarian carcinosarcoma is a very rare cancer and accounts for about 1-4% of new ovarian cancer diagnoses. Historically, these cancers were thought to be related to a type of tumor called sarcoma, which grows out of stroma, or connective tissues. It can also form in the bones and soft tissues, but recent research suggests that ovarian carcinosarcoma is more similar to common (epithelial) ovarian cancers than initially thought.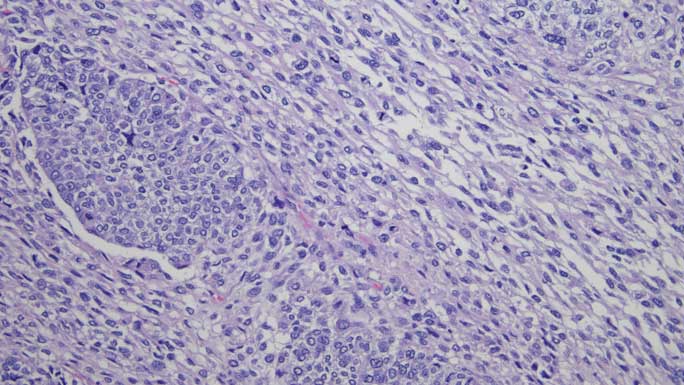 Symptoms and Diagnosis
Many patients with this type of ovarian cancer will have a large, fast-growing ovarian mass and might experience symptoms such as:
Bloating

Feeling full quickly

Pain

Feeling a mass in the belly

Worsening tiredness (fatigue)
Often the diagnosis of ovarian carcinosarcoma is made only after surgery, based on the pathology report. UChicago Medicine specialized gynecologic pathologists can help ensure the correct diagnosis is made.
Initial Treatment
Ovarian carcinosarcoma is often managed with a combination of surgery and chemotherapy. Similar to other ovarian cancers, the treatment for ovarian carcinosarcoma often includes aggressive surgeries aimed to remove as much of the visible cancer as possible. Our team of gynecologic cancer surgeons have extensive experience caring for patients with this rare type of ovarian cancer. Chemotherapy is often needed in addition to surgery, and there may be opportunities for clinical trial participation. If the tumor is very extensive on CT imaging, we may choose to do chemotherapy first.
Treatment for Recurrent Ovarian Carcinosarcoma
Ovarian carcinosarcoma can be very difficult to treat once it returns. Chemotherapy is typically the mainstay of treatment, but in select patients, surgery is sometimes recommended as well. We often use chemotherapies similar to those used in more common types of ovarian cancer. As we learn more about ovarian carcinosarcoma we continue to identify new molecular characteristics which may help us find better treatment options.

At the University of Chicago Medicine, we have a robust clinical trials program that constantly evaluates new targeted therapies, immunotherapies and combinations of treatments to improve the lives and outcomes of patients with ovarian carcinosarcoma. If indicated, we will also evaluate your family members in our cancer prevention clinic to help them understand if they are at a higher risk for developing cancer. Thanks to a recent research grant awarded to our gynecologic cancer research team, we are focusing our research efforts on this rare type of ovarian cancer to understand its biology and to find novel treatments.
Convenient Locations for Gynecologic Oncology Care
Request an Appointment
The information you provide will enable us to assist you as efficiently as possible. A representative will contact you within one to two business days to help you schedule an appointment.
You can also make an appointment with our providers by:
– Scheduling a virtual video visit to see a provider from the comfort of your home
– Requesting an online second opinion from our specialists
To speak to someone directly, please call 1-888-824-0200. If you have symptoms of an urgent nature, please call your doctor or go to the emergency room immediately.