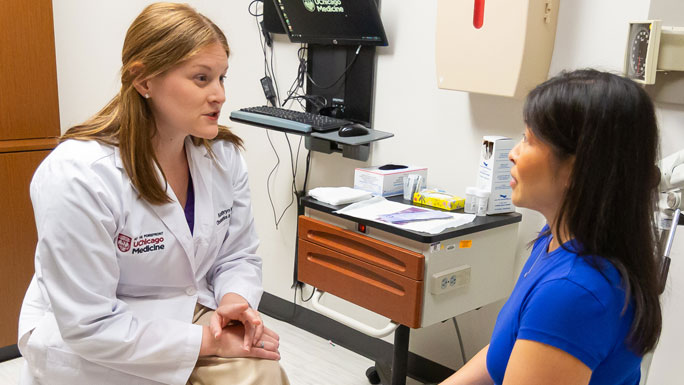 Not all cancers behave alike. Rare cancer types may respond best to less commonly known therapies.

At UChicago Medicine Comprehensive Cancer Center, our gynecologic cancer team members are experts in treating rare cancers. We take an individualized approach to treatment by incorporating decades of experience, the latest research and innovative therapies. We also offer clinical trials at several of our locations, making access to novel therapies convenient and closer to home.

Some examples of rare gynecologic cancers include, but are not limited to:
Uterine serous cancer

Uterine carcinosarcoma

Sex cord stromal ovarian tumors
Convenient Locations for Gynecologic Oncology Care
Request an Appointment for Cancer Care
The information you provide in this form will enable us to assist you as efficiently as possible. A representative will contact you within one to two business days to help you schedule an appointment.
For your convenience, you can make a virtual visit appointment with a cancer expert in the following ways:
– Schedule a virtual video visit to see a provider from the comfort of your home
– Request an online second opinion from our specialists
To speak to someone directly, please call 1-773-702-6118. If you have symptoms of an urgent nature, please call your doctor or go to the emergency room immediately.
For Referring Physicians
To refer a patient for cancer care, please call UCM Physician Connect at 1-800-824-2282.
Gynecologic Cancer Related Articles