Skip to content
ASH annual meeting brings together top blood cancer experts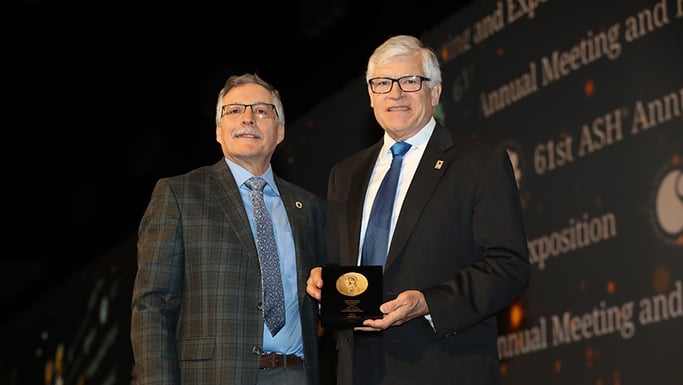 Richard Larson, MD, (right) was honored with the 2019 Henry M. Stratton Medal at the American Society of Hematology (ASH) Annual Meeting. Next to him is the 2019 ASH president Roy Silverstein, MD. (Photo courtesy of the American Society of Hematology)
Orlando, Florida, is the home of Disney World, "the happiest place on earth," but for a record number of cancer physicians and scientists, the real excitement was at the Orange County Convention Center. There, the American Society of Hematology (ASH) held its 61st Annual Meeting and Exposition on December 7-10, 2019.
As the premier conference focused on hematological malignancies – or blood cancers – the ASH annual meeting brought together more than 30,000 attendees from around the world to share the latest scientific discoveries and advances in clinical care. Faculty from UChicago Medicine Comprehensive Cancer Center presented their research and clinical updates during the meeting.
Additionally, ASH recognized UChicago Medicine's Richard Larson, MD, professor of medicine and director of the Hematologic Malignancies Program, with the 2019 Henry M. Stratton Medal, one of the cancer field's top honors, for his seminal contributions to basic and clinical/translational hematology research.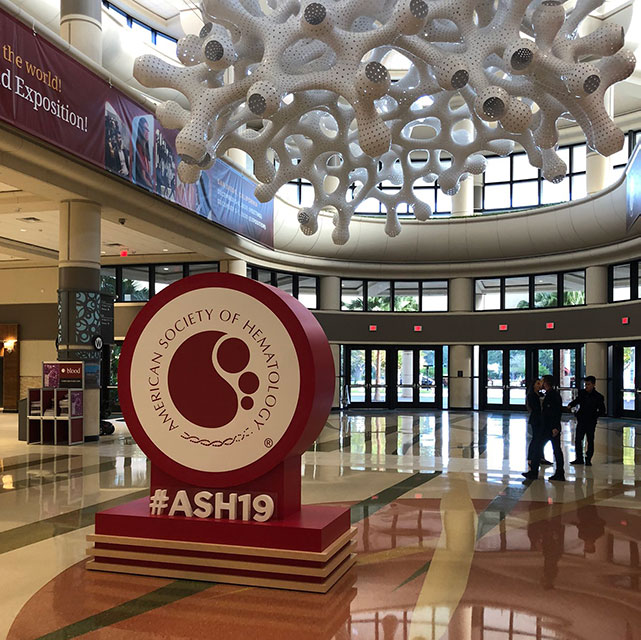 Here are a few highlights from the meeting:
Wendy Stock, MD, Anjuli Seth Nayak Professor in Leukemia, chaired a session on new data and insights in acute lymphocytic leukemia (ALL) and presented on how to incorporate novel therapies into ALL management. Stock also spoke on adult clinical malignant hematology at a career development luncheon, and she gave a summary of CAR T-cell abstracts that were presented at the meeting during a special interest session. Stock serves as an editor of Blood Advances, a digital open-access journal produced by ASH.
Megan McNerney, MD, PhD, assistant professor of pathology, discussed her work showing that deficiency in the 7q tumor suppressor, CUX1, increases the effects of Ras signaling to drive high-risk myeloid malignancy.
Lucy Godley, MD, PhD, professor of medicine, spoke about the application of microarray and large datasets to hematology and bioinformatics during a trainee didactic session.
Melody Swartz, PhD, William B. Ogden Professor of Molecular Engineering, delivered a presentation on lymphatic activation in the tumor microenvironment and its role on overall immunity.
Tara Henderson, MD, MPH, associate professor of pediatrics and director of the Childhood Cancer Survivors Center, led a career development session on pediatric clinical malignant hematology.
As part of the ASH-a-Palooza programming for trainees, Jill de Jong, MD, PhD, assistant professor of pediatrics, and James LaBelle, MD, PhD, associate professor of pediatrics and director of hematopoietic stem cell transplantation, led sessions on adult and pediatric clinical non-malignant hematology and bone marrow transplant in pediatrics and adults, respectively.
Additionally, the following UChicago Medicine faculty presented posters describing their latest research findings:
Jagoda Jasielec, MD
Hongtao Liu, MD, PhD
Here is a complete list of 2019 ASH Annual Meeting presentations in which Comprehensive Cancer Center physicians and scientists were the speaker, chair, moderator or co-author.
The 62nd ASH Annual Meeting and Exposition will be held December 5-7, 2020 in San Diego, California.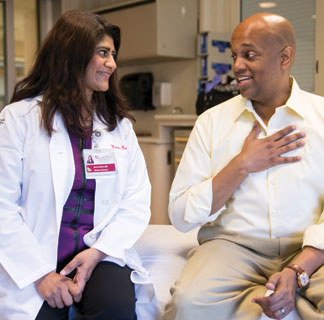 UChicago Medicine Comprehensive Cancer Center
UChicago Medicine is designated as a Comprehensive Cancer Center by the National Cancer Institute, the most prestigious recognition possible for a cancer institution. We have more than 200 physicians and scientists dedicated to defeating cancer.
Learn More About the Comprehensive Cancer Center