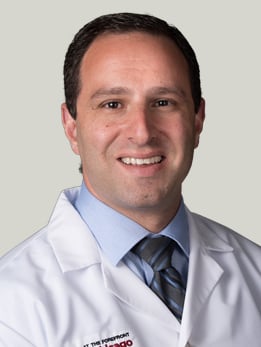 Hematology and Oncology (Cancer) | More
Assistant Professor of Medicine
UChicago Faculty Physicians hold faculty positions with the University of Chicago and provide care for patients on the academic health system's main campus in Hyde Park and in care centers throughout the Chicago region.
Close
855-702-8222
Randy Sweis, MD specializes in the treatment of patients with genitourinary malignancies including bladder, kidney, prostate and testicular cancers. He is an expert in the use of leading-edge immunotherapies and novel investigational treatments. Dr. Sweis develops a personalized, multidisciplinary treatment plan for each of his patients.
An accomplished physician-scientist, Dr. Sweis' research is focused on enhancing the immune response against cancer. He translates laboratory findings to patient care using his expertise in developmental therapeutics and clinical pharmacology. He has an interest in developing biomarkers and investigating novel therapeutic strategies to improve the effectiveness of immunotherapy treatments.