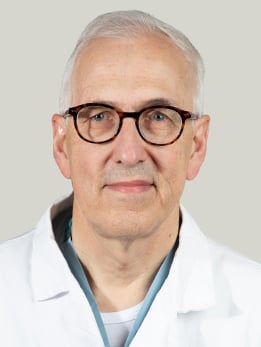 Neurosurgery, Neuro-Oncology (Brain & Spinal Tumors), Surgery | More
Professor of Neurological Surgery
Director, Stereotactic and Functional Neurosurgery
UChicago Faculty Physicians hold faculty positions with the University of Chicago and provide care for patients on the academic health system's main campus in Hyde Park and in care centers throughout the Chicago region.
Close
773-702-2123
Internationally renowned neurosurgeon Peter Warnke, MD, has performed more than 6,000 stereotactic surgeries and more than 3,000 brain tumor surgeries. Dr. Warnke provides neurosurgical care for the treatment of:
He routinely performs neurosurgical procedures with proven expertise, including:
Endoscopic neurosurgery
Stereotactic radiosurgery
Motor cortex stimulation
Radiofrequency lesioning
Laser ablation
In 2021, Dr. Warnke became the first neurosurgeon in Illinois — and only second worldwide —to perform laser hemispherectomy for the treatment of drug-resistant epilepsy in a child. This highly innovative surgical technique carries significantly lower risk of complications compared to the traditional open hemispherectomy procedure.
Dr. Warnke is fellowship-trained in brain tumor surgery (neurooncology), movement and epilepsy surgery, and pediatric surgery. He has treated one of the largest series of low grade gliomas in adults and children (more than 1,000) and intrinsic other brain tumors.
Dr. Warnke directs the MRI-Guided Laser Ablation Program for epilepsy and tumors, and is actively researching biological treatments for brain tumors (Lancet Oncology 2013).
In addition, Dr. Warnke has a large deep brain stimulation practice for Parkinson's, essential tremor and dystonia, and was the first neurosurgeon in Chicago to use directional deep brain stimulation.
Dr. Warnke has a large epilepsy surgery practice and performs open resections, laser ablations and neurostimulation for epilepsy. He directs the SLATE trial in epilepsy surgery, investigating laser ablation as a new minimally invasive alternative to open surgery.
He has special expertise in stereotactic radiosurgery, including interstitial radiosurgery and stereotactically guided endoscopy. Dr. Warnke was one of the first neurosurgeons to use interstitial stereotactic radiosurgery for the treatment of gelastic epilepsy and hypothalamic hamartomas. He also provides care for patients with pain syndromes, including trigeminal neuralgia and neuropathic pain.
He is also researching the development of biological and minimally invasive treatments for epilepsy, movement disorders and brain tumors. Dr. Warnke is the associate editor of the Journal of Neurology, Neurosurgery and Psychiatry, which has the highest impact factor among neurosurgical journals. He also sits on the steering committees of several clinical trials, and has received ongoing extramural research funding for 20 years.
Read more from Dr. Warnke