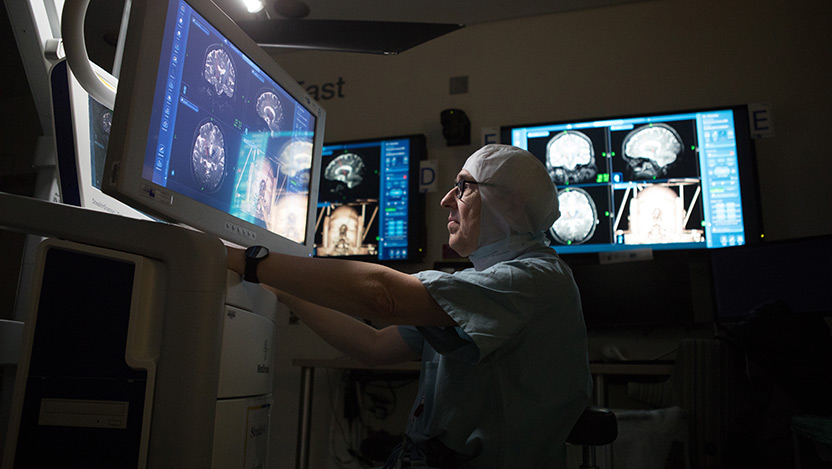 Deep Brain Stimulation Surgery
Our physicians are experts in deep brain stimulation (DBS) surgery. Almost all of our patients undergoing DBS surgery experience a significant reduction in the severity of symptoms. Additionally, our physicians actively research and develop techniques to enhance the effectiveness of DBS surgery.

DBS is a complex stereotactic procedure, meaning the neurosurgeon uses a 3D brain mapping system to access and treat precise areas in the brain that are otherwise difficult to reach. In stereotactic procedures, the neurosurgeon operates tiny, specialized surgical instruments through a very small hole in the skull while the patient is awake. This minimally invasive technique maximizes benefit and minimizes risk compared to traditional brain surgery.
DBS Surgery with Intraoperative CT
In addition to our team's unmatched expertise, we are the only hospital in the region with an intraoperative CT scanner in our operating room. This leading technology allows us to capture images of the brain during the procedure, which:
Enhances the accuracy and efficiency of device placement for the most effective results

Reduces the amount of time spent in surgery

Reduces the risk of post-operative infection
Percept PC DBS system
UChicago Medicine is the first hospital in the Chicagoland area to use the new Percept PC DBS system to treat patients with movement disorders and ranks as the most "Percept experienced" DBS program in all of Illinois.
The Percept PC DBS system not only stimulates the brain, but also takes recordings, allowing us to see how the brain responds to the stimulation. This system represents a new area of individualized treatment for our patients and should provide more symptom relief.
Read More About Parkinson's Disease and Movement Disorders