Our physicians are experts in deep brain stimulation (DBS) surgery. Almost all of our patients undergoing DBS surgery experience a significant reduction in the severity of symptoms. Additionally, our physicians actively research and develop techniques to enhance the effectiveness of DBS surgery.

DBS is a complex stereotactic procedure, meaning the neurosurgeon uses a 3D brain mapping system to access and treat precise areas in the brain that are otherwise difficult to reach. In stereotactic procedures, the neurosurgeon operates tiny, specialized surgical instruments through a very small hole in the skull while the patient is awake. This minimally invasive technique maximizes benefit and minimizes risk compared to traditional brain surgery.
DBS Surgery with Intraoperative CT
In addition to our team's unmatched expertise, we are the only hospital in the region with an intraoperative CT scanner in our operating room. This leading technology allows us to capture images of the brain during the procedure, which:
Enhances the accuracy and efficiency of device placement for the most effective results

Reduces the amount of time spent in surgery

Reduces the risk of post-operative infection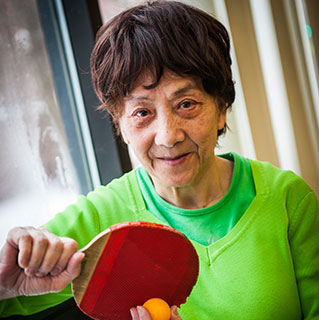 Deep brain stimulation helps control Parkinson's symptoms
Cheng Xiu Xu's Parkinson's symptoms became too much for her and her neurologist. She turned to UChicago Medicine experts for relief.
Read Xu's Story
Telemedicine at UChicago Medicine

Schedule a Video Visit
For your convenience and safety, we offer secure and easy virtual visits for most non-urgent visit types. Our care providers can assess your symptoms, make a diagnosis, recommend treatment and send prescriptions to your pharmacy.

Get a Second Opinion Online
Whether you are facing a complex health issue or difficult treatment decision, getting a second opinion can help you make an informed decision about your care. Get an online second opinion from one of our experts without having to leave home.

Submit an E-Visit
Complete an online questionnaire (e-visit) through your MyChart account to get a same-day diagnosis and a treatment plan from UChicago Medicine clinicians for common conditions.
Request an Appointment
The information you provide will enable us to assist you as efficiently as possible. A representative will contact you within one to two business days to help you schedule an appointment.
You can also make an appointment with our providers by:
– Scheduling a virtual video visit to see a provider from the comfort of your home
– Requesting an online second opinion from our specialists
– Filling out an online questionnaire (e-visit) to get a same-day diagnosis and treatment for common conditions.
To speak to someone directly, please call 1-773-702-6222. If you have symptoms of an urgent nature, please call your doctor or go to the emergency room immediately.
Neurology & Neurosurgery Related Articles