At the University of Chicago Medicine Center for Parkinson's Disease and Movement Disorders, our neurology experts understand that effective care is customized to the unique symptoms and needs of each patient. As an American Parkinson's Disease Association-certified center, we specialize in the treatment and management of complicated and rare movement disorders, as well as symptoms of progressive neurodegenerative diseases.
Parkinson's Disease
Parkinson's disease (PD) is a degenerative disease of the nervous system that causes impaired or involuntary movements and can affect behavior, mood and other non-motor functions of the body. PD is a progressive disease, meaning it worsens over time. Diagnosis usually occurs after age 55, though early onset at a younger age is also possible.
Parkinson's disease is caused by the progressive loss of a certain type of neuron cells in the brain. This results in a shortage of the chemical messenger called dopamine, which is important for controlling the body's motor functions.
Symptoms of Parkinson's Disease
Tremor, most commonly starting in the hands but can also occur in the tongue, jaw and legs
Stiff or rigid muscles (spasticity)
Slow movement (bradykinesia)
Decreased vocal volume
Lack of facial expression
Abnormally small handwriting (micrographia)
Shuffling gait (an impaired walk, as if the feet are stuck to the floor)
Decreased arm movement when walking
Difficulty with balance, posture or gait, which may result in falls
PD symptoms can often be controlled with medication alone, or with a combination of medication and surgical intervention, such as deep brain stimulation (DBS), for patients who meet certain criteria. The extent to which symptoms can be reduced depends on each patient's individual circumstances. At UChicago Medicine, our goal is to improve symptoms so our patients can enjoy the highest possible quality of life.
Essential Tremor
Essential tremor, also known as benign familial tremor, is the most common movement disorder. Characterized by uncontrollable shaking, essential tremor progresses slowly. It is distinctly different from Parkinson's disease, although commonly misdiagnosed. Some patients may have essential tremor and PD.
Symptoms of Essential Tremor
Difficulty with precise tasks (threading a needle)
Excessive shaking in hands
Inability to dress or feed yourself
Shaking in tongue
Shaking in arms
Tremor in voice
Tremor in neck
Treatment plans for essential tremor may involve medication, surgery or a combination of both. Initial treatment often includes propranolol or primidone, which are medications that have proven effective in about half of patients. Deep brain stimulation (DBS) surgery is a highly effective treatment option for patients who are eligible candidates.
Conditions We Treat
In addition to Parkinson's Disease and Essential Tremor, our neurologists are experts in treating:
Blepharospasm
Chorea
Cortical basal degeneration (CBD)
Dystonia
Dyskinesias
Hemifacial spasm
Huntington's disease (HD)
Multiple system atrophy (MSA)
Myoclonus
Parkinsonian syndrome
Progressive supranuclear palsy (PSP)
Tics
Tourette syndrome (TS)
Rett syndrome
Wilson's disease
Movement Disorders, Parkinson's Disease, Deep Brain Stimulation: Expert Q&A
Dr. Tao Xie, a specialist in the treatment of Parkinson's disease and movement disorders, and neurosurgeon Dr. Peter Warnke, discuss the diagnosis and management of Parkinson's disease and DBS as a treatment option.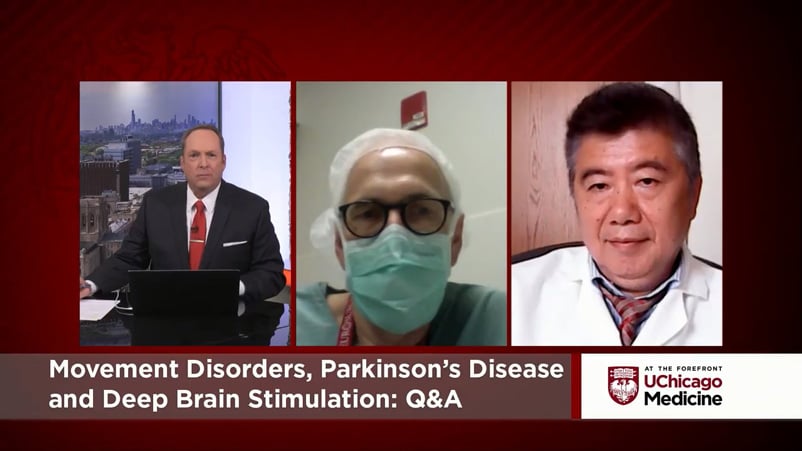 Find a Location Near You
1101 S. Canal St.
Suite 201 & 202
Chicago, IL 60607
877-336-5667
Telemedicine at UChicago Medicine

Schedule a Video Visit
Save time by skipping the trip to the doctor's office and video conference with your provider instead. Video visits are a secure, quick, and convenient way to connect with your doctor and other members of your care team.

Get a Second Opinion Online
Whether you are facing a complex health issue or difficult treatment decision, getting a second opinion can help you make an informed decision about your care. Get an online second opinion from one of our experts without having to leave home.

Submit an E-Visit
Complete an online questionnaire (e-visit) through your MyChart account to get a same-day diagnosis and a treatment plan from UChicago Medicine clinicians for common conditions.
Request an Appointment
The information you provide will enable us to assist you as efficiently as possible. A representative will contact you within one to two business days to help you schedule an appointment.
You can also make an appointment with our providers by:
– Scheduling a virtual video visit to see a provider from the comfort of your home
– Requesting an online second opinion from our specialists
– Filling out an online questionnaire (e-visit) to get a same-day diagnosis and treatment for common conditions.
To speak to someone directly, please call 1-888-824-0200. If you have symptoms of an urgent nature, please call your doctor or go to the emergency room immediately.
Neurology & Neurosurgery Related Articles