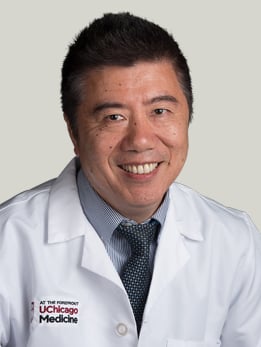 Professor of Neurology Director, Parkinson's Disease and Movement Disorder Clinic and DBS Program
Director, Information and Referral Center of American Parkinson Disease Association
Director, Center of Excellence in CurePSP
UChicago Faculty Physicians hold faculty positions with the University of Chicago and provide care for patients on the academic health system's main campus in Hyde Park and in care centers throughout the Chicago region.
Close
773-702-6222
Tao Xie, MD, PhD, specializes in the diagnosis and treatment of various movement disorders, including Parkinson's disease (PD), progressive supranuclear palsy (PSP), multiple system atrophy (MSA), cortical basal ganglionic degeneration (CBGD), Huntington's disease (HD) and chorea, tremor, dystonia, hemifacial spasm, blepharospasm, tics, and Tourette syndrome. He uses medications, botulinum toxin injection and deep brain stimulation (DBS) surgery for treatment of these neurological conditions.
In his clinical research, Dr. Xie studies the effectiveness of deep brain stimulation for the treatment of PD, tremor, and dystonia, and the use of DaTscan in the differential diagnosis of Parkinsonian syndrome. He is also actively involved in clinical trials for PD, PSP, dystonia, SCA6 and HD.
Dr. Xie is a physician in the University of Chicago Center for Parkinson's Disease and Movement Disorders. Dedicated as an Information and Referral Center by the American Parkinson Disease Association and a PSP Center of Excellence for Care, this multidisciplinary center combines clinical expertise with state-of-the-art therapies and groundbreaking research.