Clinical Associate of Medicine
A clinically integrated network of physicians and providers employed by UChicago Medicine who offer care in inpatient, community, ambulatory, acute care or extended care settings.
Close
773-702-6138
Request an Appointment
Refer a Patient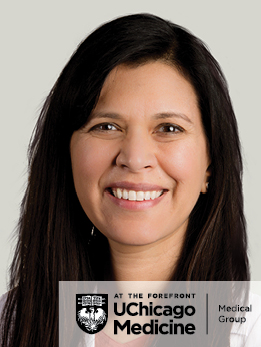 Farah Akhtar Hasan, MD, directs the
diabetes program
at the University of Chicago Medicine Center for Advanced Care at Orland Park. The respected endocrinologist leads a team that provides comprehensive care to patients, and tailors treatment to individual needs. Therapies includes medication, diet and
weight management
, insulin pumps and continuous glucose monitoring systems.
Dr. Hasan sees patients daily and focuses on quality outcomes and evidence-based medicine to help them manage their conditions. An in-demand presenter at diabetes conferences, she is on staff at the renowned
Kovler Diabetes Center,
is a fellow of the American College of Physicians and a fellow of the American Association of Clinical Endocrinologists.
To Request an Appointment
UChicago Medicine Orland Park
Request an Appointment at UChicago Medicine Orland Park or call UCM Connect at 1-888-824-0200
To Refer a Patient
Refer a Patient
or call UCM Connect at
1-888-824-0200