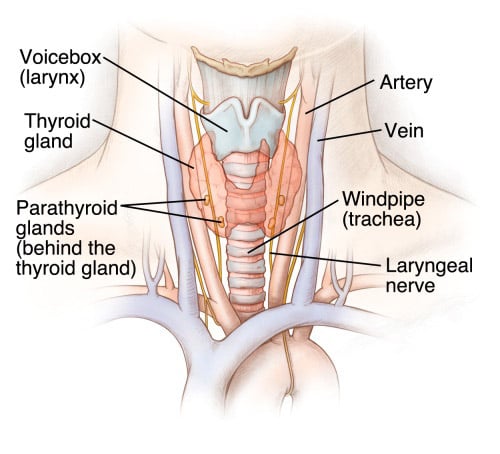 For a small gland, the thyroid can cause a lot of problems. That's because the thyroid produces hormones that play an important role in metabolism, which is how your body creates the energy it needs to digest food, pump your heart and carry out other vital cellular tasks.
When the thyroid becomes diseased or dysfunctional, it may start producing too much or too little of these hormones, which can cause a range of symptoms. If the thyroid is under-active (hypothyroidism), you may feel fatigued, experience constipation and gain weight. In contrast, if the thyroid is over-active (hyperthyroidism or thyrotoxicosis), you may have trouble falling asleep, have loose bowels and lose weight.
Whether you suspect you may have a thyroid disorder or are looking for a second opinion, UChicago Medicine endocrinologists will work with you to pinpoint the cause of your thyroid issues and identify the appropriate medical or surgical approaches. Our goal is to return you to your life pre-thyroid disorder.
Thyroid Diagnostic Expertise
At UChicago Medicine, our physician experts have in-depth understanding and strong experience with all types of thyroid problems, and are able to diagnose that many other would not be able to identify. Common thyroid conditions including:
Thyroid nodules
Goiters
Hyperthyroidism, including Graves' disease and less common forms
Hypothyroidism, including Hashimoto's disease and less common forms
Genetic forms of thyroid disease, including congenital hyperthyroidism
When it comes to diagnosing rare and confusing thyroid disorders, including inherited and congenital forms, our team includes one of the most experienced physicians in the world. UChicago Medicine's Samuel Refetoff, MD, has authored or co-authored more than 480 publications on his research into genetic thyroid disorders and even has an inherited thyroid disorder named after him (Refetoff Syndrome).
State-of-the-Art Thyroid Treatments
When surgery is needed to move a thyroid nodule, goiter or the thyroid gland, our UChicago Medicine endocrine surgeons are committed to using minimally invasive techniques. In fact, our hospital was the first in the region to offer scarless thyroidectomy.
Patients with thyroid cancer also benefit from our team approach. UChicago Medicine is home to nationally respected thyroid cancer experts. When a patient's case is complicated, our endocrinologists, medical oncologists, pathologists, radiation oncologists, radiologists and surgeons gather together to determine the best treatment course for the patient.
Request an Appointment
The information you provide will enable us to assist you as efficiently as possible. A representative will contact you within one to two business days to help you schedule an appointment.
To speak to someone directly, please call 1-888-824-0200. If you have symptoms of an urgent nature, please call your doctor or go to the emergency room immediately.
Endocrinology Related Articles