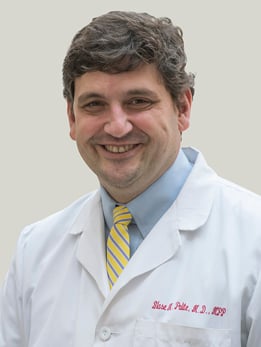 Hematology and Oncology (Cancer) | More
Professor of Medicine
UChicago Faculty Physicians hold faculty positions with the University of Chicago and provide care for patients on the academic health system's main campus in Hyde Park and in care centers throughout the Chicago region.
Close
855-702-8222
Blase Polite, MD, has expertise in the treatment of gastrointestinal (GI) malignancies, with a particular focus on colon, rectal, and anal cancers, and neuroendocrine (carcinoid) tumors.
In conjunction with the Center for GI Oncology, Dr. Polite works closely with national and international experts in surgical and radiation oncology and interventional gastroenterology. Through this team approach, individualized treatment plans can be established for each patient.
He lectures and publishes on these topics, and serves on a national scientific advisory panel charged with selecting the top research abstracts to be presented at national meetings for GI cancers. He is also frequently asked to perform peer review of research being considered for publication in major medical journals.
Dr. Polite has initiated several clinical research trials aimed at advancing our treatment of colon and rectal cancer at all stages including for individuals whose tumor has grown despite standard treatments.
In addition to his primary clinical responsibilities, Dr. Polite's research has focused on understanding racial and ethnic differences in colon cancer outcomes, with a focus on understanding the psychological, social and spiritual needs of each patient.