If you're having a stroke, it's critical that you get medical attention right away. Immediate treatment may minimize the long-term effects of a stroke and even prevent death. Thanks to recent medical advances, stroke treatments and survival rates have improved greatly over the last decade.


F.A.S.T.
Use the acronym F.A.S.T. to recognize symptoms of a stroke and know when to call 911.


F – Face drooping
Does one side of the face droop or is it numb? Ask the person to smile. Is the person's smile uneven or lopsided?


A – Arm weakness
Is one arm weak or numb? Ask the person to raise both arms. Does one arm drift downward?


S – Speech difficulty
Is speech slurred? Is the person unable to speak or hard to understand? Ask the person to repeat a simple sentence, like "The sky is blue." Is the person able to correctly repeat the words?


T – Time to call 911
If someone shows any of these symptoms, even temporarily, call 911 for help.

Don't delay and also note the time when symptoms started so you can help emergency responders.
Telemedicine at UChicago Medicine

Schedule a Video Visit
For your convenience and safety, we offer secure and easy virtual visits for most non-urgent visit types. Our care providers can assess your symptoms, make a diagnosis, recommend treatment and send prescriptions to your pharmacy.

Get a Second Opinion Online
Whether you are facing a complex health issue or difficult treatment decision, getting a second opinion can help you make an informed decision about your care. Get an online second opinion from one of our experts without having to leave home.

Submit an E-Visit
Complete an online questionnaire (e-visit) through your MyChart account to get a same-day diagnosis and a treatment plan from UChicago Medicine clinicians for common conditions.
Request an Appointment
The information you provide will enable us to assist you as efficiently as possible. A representative will contact you within one to two business days to help you schedule an appointment.
You can also make an appointment with our providers by:
– Scheduling a virtual video visit to see a provider from the comfort of your home
– Requesting an online second opinion from our specialists
– Filling out an online questionnaire (e-visit) to get a same-day diagnosis and treatment for common conditions.
To speak to someone directly, please call 1-773-702-6222. If you have symptoms of an urgent nature, please call your doctor or go to the emergency room immediately.
Coronavirus (COVID-19) information for stroke survivors, neurology patients and caregivers
University of Chicago Medicine neurologist Shyam Prabhakaran, MD, MS, answers questions about coronavirus for neurology patients and stroke survivors.
Read more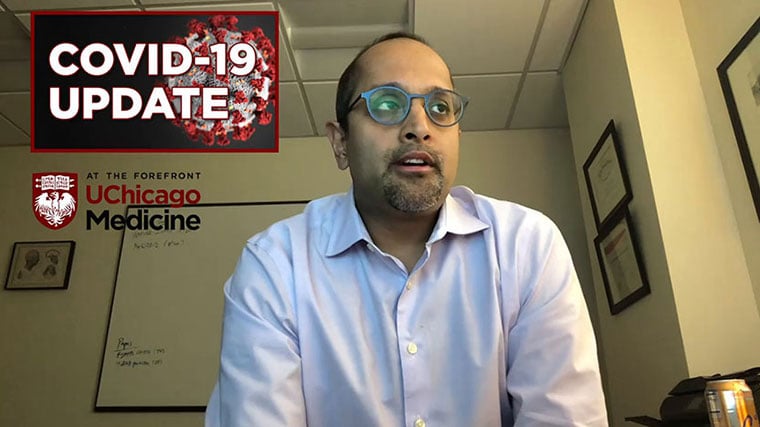 Neurology & Neurosurgery Related Articles