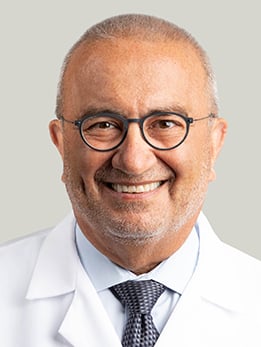 Neurosurgery, Neurocritical Care, Surgery | More
The John Harper Seeley Professor of Neurological Surgery Director, Neurovascular Surgery
Director, Safadi Program of Excellence in Clinical and Translational Neuroscience
UChicago Faculty Physicians hold faculty positions with the University of Chicago and provide care for patients on the academic health system's main campus in Hyde Park and in care centers throughout the Chicago region.
Close
773-702-2123
Issam A. Awad, MD, is an internationally recognized leader in neurosurgery. He is skilled in the surgical management of neurovascular conditions affecting the brain and spinal cord, including cerebral aneurysms, cerebrovascular malformations, carotid surgery, hemorrhagic stroke and skull base tumors. He leads the Neurovascular Surgery Program and co-leads the Stroke and Neurovascular Care team. Dr. Awad is the Director of the Safadi Program of Excellence in Clinical and Translational Neuroscience, and the Centers of Excellence for Cerebral Cavernous Malformations (CCM) and Hereditary Hemorrhagic Telangiectasia (HHT).

Dr. Awad's research focuses on vascular biology, genetics and comprehensive outcome analysis in neurovascular disease and stroke. His active projects include National Institutes of Health (NIH)-funded investigations of molecular mechanisms involved in the formation and progression of cerebrovascular malformations. Additionally, he leads several clinical trials on minimally invasive techniques for surgical treatment of hemorrhagic stroke and novel drug therapies for Cavernous Angiomas With Symptomatic Hemorrhage (CASH).
Dr. Awad's research contributions have spanned several decades. His scientific innovations include the characterization of subcortical ischemic lesions in the aged, advances in the understanding of the natural history and biologic behavior of cerebral vascular malformations and numerous technical advances in neurovascular and epilepsy surgery.

Recognized as a pioneering and productive scholar, Dr. Awad has educated scores of neurosurgeon trainees and holds prominent editorial responsibilities. He has authored leading textbooks and published more than 350 scholarly papers related to clinical innovations, surgical outcomes and research.

Additionally, Dr. Awad has been elected to some of the most distinguished professional societies and has held leadership positions in professional and learned societies in the United States and around the world. He has served as president of the Congress of Neurological Surgeons, chairman of the Cerebrovascular Section of the American Association of Neurological Surgeons, chairman of the Congress of Neurological Surgeons and on the executive committee of the American Stroke Association and the board of governors of the American College of Surgeons. He serves on the U.S. National Council for Neurological Disorders and Stroke and is the founding chairman of the Scientific Advisory Board of Angioma Alliance. He is regularly included on the list of the "Best Doctors in America."
Read Dr. Awad's Patient Stories