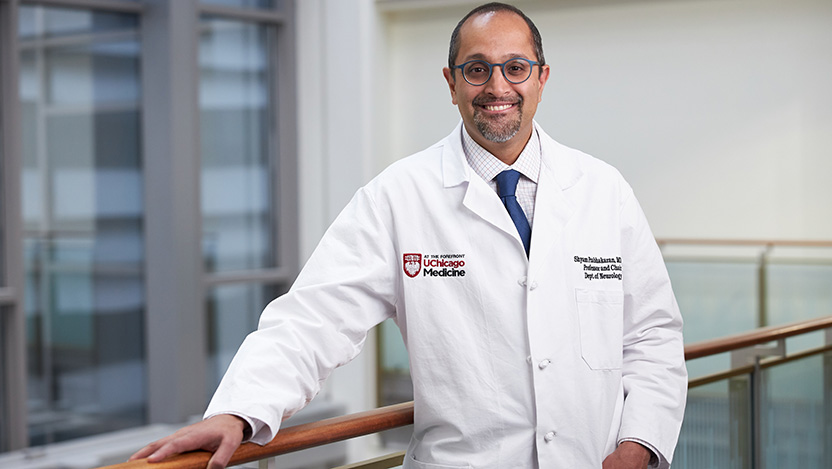 Multispecialty Stroke & Neurovascular Care
At the University of Chicago Medicine, we provide the most contemporary, innovative care for the full range of common and complex blood flow problems affecting the brain and spinal cord. Our collaborative, approach draws on the talents and internationally recognized expertise of leading clinicians in neurology, neurosurgery and neurointerventional surgery. Our team includes pioneering experts in these specialties, offering a depth and breadth of experience that enables us to help people with the most challenging neurovascular problems. Our team provides thorough and compassionate care at every level of illness and for patients at every age.
What We Treat
Our team provides emergency care and treatment for patients with the following emergent and less urgent neurovascular conditions:
Childhood stroke and pediatric neurovascular lesions
Dissections of brain arteries
Narrowing of brain arteries
Stroke in young adults
Strokes that are unexplained or cryptogenic
Interdisciplinary Team, Comprehensive Expertise
Sometimes, there is more than one way to help patients with neurovascular problems. Our patients benefit from having experts in multiple specialties collaborating to customize care, based on each individual's medical problems, history, and life perspective. Patients will be able to see several specialists in one clinic visit.

Our physician team is led by specialists in:
The American Heart Association and the American Stroke Association recognize UChicago Medicine for consistently exceeding national standards to improve quality of patient care and outcomes.
Convenient Locations for Stroke & Neurovascular Care
Read More About Stroke and Neurovascular Diseases