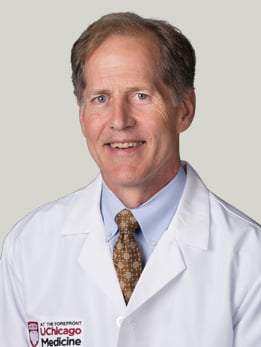 Neurology, Vascular Neurology | More
Associate Professor of Neurology
Medical Director, Comprehensive Stroke Center
UChicago Faculty Physicians hold faculty positions with the University of Chicago and provide care for patients on the academic health system's main campus in Hyde Park and in care centers throughout the Chicago region.
Close
773-702-6222
James R. Brorson, MD, is an expert in the evaluation and treatment of
stroke
, transient ischemic attack and cerebrovascular disease. He diagnoses and treats patients with common and unusual types of cerebrovascular disease – including atherosclerosis,
carotid artery narrowing
, cardioembolic stroke, arterial dissection, intracranial aneurysm, cerebral venous sinus thrombosis, vascular malformations and moyamoya disease.
Working with colleagues in the sections of neurosurgery, vascular surgery, neuroradiology and cardiology, Dr. Brorson uses an interdisciplinary approach to decision making and planning therapies to prevent stroke and evaluating emerging treatments for cerebrovascular disease. He currently participates in clinical trials evaluating balloon angioplasty and stenting for carotid artery disease and percutaneous closure of patent foramen ovale (PFO) for stroke prevention.
Dr. Brorson's research efforts focus on understanding the mechanisms of neuronal damage pertinent to stroke and evaluating the best approaches to effective stroke prevention.
UChicago Faculty Physicians who provide services at UChicago Medicine Ingalls Memorial are not employees or agents of UChicago Medicine Ingalls Memorial.