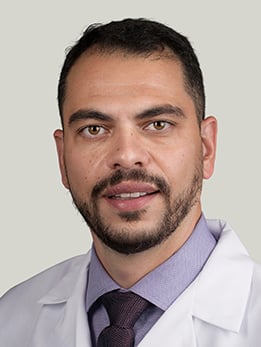 Neurology, Neurocritical Care | More
Assistant Professor of Neurology
UChicago Faculty Physicians hold faculty positions with the University of Chicago and provide care for patients on the academic health system's main campus in Hyde Park and in care centers throughout the Chicago region.
Close
773-702-6222
Tareq Kass-Hout, MD, is a skilled stroke neurologist who also specializes in neuro-critical care, treating critically ill neurovascular patients. Dr. Kass-Hout's expertise also includes neuroimaging and neuroendovascular surgery, treating blood vessels pathology in the brain and spinal cord through minimally invasive surgery using catheters. He is a national expert in ischemic and hemorrhagic strokes, cerebral aneurysms and other complex neurological conditions, such as arteriovenous malformations (AVM), arteriovenous fistula, carotid artery disease (CAD), pre-surgical tumor and embolization.
Because Dr. Kass-Hout is passionate about improving care for neurovascular patients, he researches new treatments and techniques designed to improve quality of life after brain injuries. His research has been published in several highly regarded, peer-reviewed journals, including the Stroke Journal, Journal of Neurointerventional Surgery, The Neurohospitalist, World Neurosurgery, Interventional Neuroradiology and more.