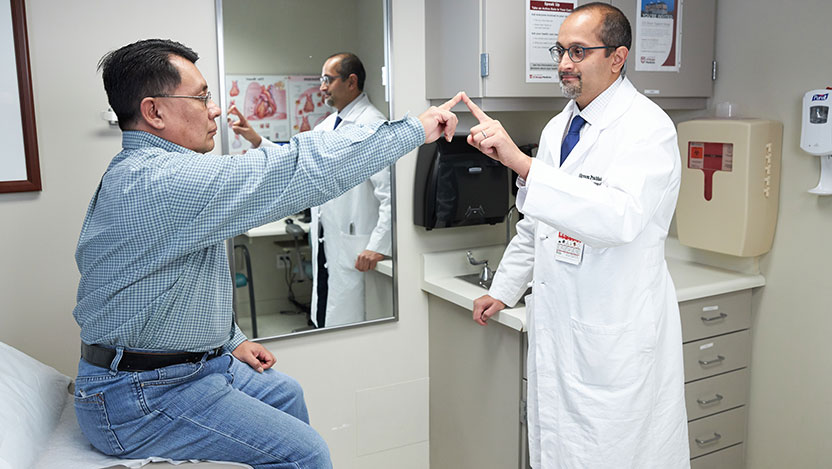 Convenient Locations for Outpatient Rehabilitation Services
The University of Chicago Medicine offers outpatient rehabilitative services in Calumet City, Flossmoor and Tinley Park.
Nationally Accredited Inpatient Rehabilitation Facility
Our Center for Rehabilitative Medicine was the first in Illinois to receive a three-year stroke specialty accreditation by the prestigious Commission on Accreditation of Rehabilitation Facilities (CARF). Overall, the center scored in the top 3 percent of all CARF surveys nationwide.
Recognized by physicians for its superior care, the 53-bed inpatient unit serves as a regional referral center, accepting patients from hospitals throughout Chicago's south and southwest suburbs. Acute rehabilitation is offered in five primary areas: amputee, general, neurological, orthopedic and stroke. The center offers 24-hour nursing care by specially trained rehabilitation nurses and the services of full-time physiatrists (physicians who specialize in physical medicine and rehabilitation).
The unit also offers on-site physical, occupational and recreational therapy, speech therapy and neuropsychology at the rehabilitation physician's order. We also offer ongoing education for patients and families and stroke support groups.
A Team Approach to Patient Care
During their hospital stays, our stroke patients receive superior care from a dedicated, interdisciplinary team that includes:
Physicians: the patient's primary-care physician, as well as a variety of specialists, including neurologists, neurosurgeons, radiologists, anesthesiologists and physiatrists
Registered nurses: who assess and coordinate patient needs, administer treatment, and provide patient and family instruction
Nursing assistants: who provide personal care and hygiene
Physical, occupational and speech therapists: who provide individualized rehabilitation treatment
Social workers: who offer support to patients and their families and coordinate appropriate community resources
Chaplains: who offer spiritual support to patients and their families
Case managers: who oversee hospitalization; coordinate with insurance payors; and work to ensure follow-up arrangements such as home care are made.
Dietitians: who assist with proper design of nutritional and caloric intake
Vagus Nerve Stimulation for Stroke Rehabilitation
The Neurosurgery team at UChicago Medicine was the first in the Midwest to successfully complete a vagus nerve stimulation implantation procedure. Vagus nerve stimulation (VNS) paired with rehabilitation has been demonstrated to be beneficial in a specific population of stroke patients. This FDA-approved treatment improves motor deficits in chronic ischemic stroke survivors with moderate to severe arm and hand impairment.
Convenient Locations for Stroke & Neurovascular Care
Read More About Stroke and Neurovascular Diseases